Luna Cinema's 2019 season is the biggest and best ever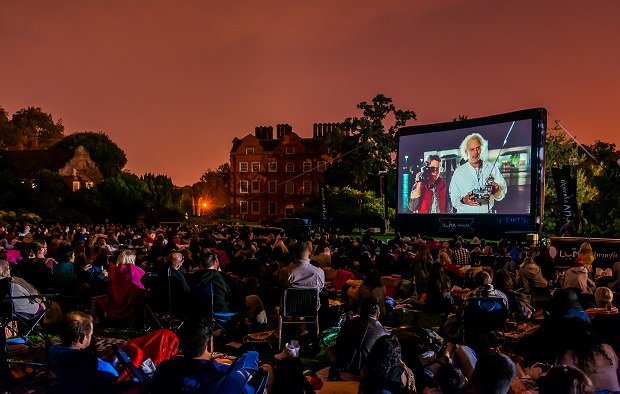 Full programme details including venues, films, screening dates and times
The Luna Cinema are bringing their biggest, boldest ever season of cinema screenings to 62 venues across the UK this spring and summer.
Going into its 11th year, the club shows no sign of wavering anytime soon and has instead announced another scorching hot season of cinema. Over 40 individual films will be shown in England's weirdest and most wonderful locations between Fri 17 May–Sun 29 Sep and tickets are on sale now.
The epic list of venues reaches 62 open air venues this year and includes Warwick Castle, Hampton Court Palace, Cardiff Castle, Kensington Palace, Lulworth Castle, Leeds Castle, Edinburgh's Royal Botanic Gardens, Harewood House, Westminster Abbey, Chatsworth House, Ascot Racecourse and Regent's Park Open Air Theatre all hosting film screenings throughout the season.
As for the films, there's a mixture of time-honoured classics like Butch Cassidy and the Sundance Kid, Ferris Bueller's Day Off, Hook, Labyrinth and Some Like It Hot. As well as this, nominees from this year's Academy Awards including The Favourite and Bohemia Rhapsody and for musical lovers Mary Poppins Returns, The Greatest Showman, Moulin Rouge!, Les Miserables are all to be shown.
Tickets for The Luna Cinema's 2019 season are on sale now.
The Luna Cinema 2019 Programme

| | | |
| --- | --- | --- |
| Alexandra Palace, London | The Greatest Showman | Fri 12 Jul 2019 |
| Alexandra Palace, London | A Star Is Born | Sat 13 Jul 2019 |
| Alexandra Palace, London | Ferris Bueller's Day Off | Sun 14 Jul 2019 |
| Anglesey Abbey, Cambs | Top Gun | Tue 11 Jun 2019 |
| Anglesey Abbey, Cambs | Bohemian Rhapsody | Wed 12 Jun 2019 |
| Anglesey Abbey, Cambs | Dirty Dancing | Thu 13 Jun 2019 |
| Ascot Racecourse, Berkshire | Bohemian Rhapsody | Thu 18 Jul 2019 |
| Ascot Racecourse, Berkshire | Mary Poppins Returns | Fri 19 Jul 2019 |
| Ascot Racecourse, Berkshire | Mamma Mia 2 | Sat 20 Jul 2019 |
| Ashton Court, Bristol | Pretty Woman | Fri 20 Sep 2019 |
| Ashton Court, Bristol | Mary Poppins Returns | Sat 21 Sep 2019 |
| Ashton Court, Bristol | Bohemian Rhapsody | Sun 22 Sep 2019 |
| Audley End House, Saffron Walden, Nr Cambridge, Essex | The Greatest Showman | Fri 5 Jul 2019 |
| Audley End House, Saffron Walden, Nr Cambridge, Essex | Mamma Mia 2 | Sat 6 Jul 2019 |
| Audley End House, Saffron Walden, Nr Cambridge, Essex | Bohemian Rhapsody | Sun 7 Jul 2019 |
| Battersea Park, London | The Breakfast Club | Tue 3 Sep 2019 |
| Battersea Park, London | Bohemian Rhapsody | Wed 4 Sep 2019 |
| Battersea Park, London | First Man | Thu 5 Sep 2019 |
| Belvoir Castle, Grantham | Mamma Mia 2 | Fri 14 Jun 2019 |
| Belvoir Castle, Grantham | Bohemian Rhapsody | Sat 15 Jun 2019 |
| Belvoir Castle, Grantham | A Star Is Born | Sun 16 Jun 2019 |
| Bolton Abbey, Skipton | Bohemian Rhapsody | Wed 21 Aug 2019 |
| Bolton Abbey, Skipton | Mary Poppins Returns | Thu 22 Aug 2019 |
| Cardiff Castle, Cardiff | Bohemian Rhapsody | Fri 13 Sep 2019 |
| Cardiff Castle, Cardiff | Mamma Mia 2 | Sat 14 Sep 2019 |
| Chatsworth House, Derbyshire | Mary Poppins Returns | Fri 26 Jul 2019 |
| Chatsworth House, Derbyshire | Bohemian Rhapsody | Sat 27 Jul 2019 |
| Chiswick House, London | Bohemian Rhapsody | Tue 23 Jul 2019 |
| Chiswick House, London | Moulin Rouge | Wed 24 Jul 2019 |
| Chiswick House, London | Jurassic Park | Thu 25 Jul 2019 |
| Crystal Palace Park, London | Romeo + Juliet | Fri 28 Jun 2019 |
| Crystal Palace Park, London | A Star Is Born | Sat 29 Jun 2019 |
| Danson House, Bexleyheath | The Greatest Showman | Fri 31 May 2019 |
| Danson House, Bexleyheath | Bohemian Rhapsody | Sat 1 Jun 2019 |
| Dulwich Park, London | Bohemian Rhapsody | Sat 3 Aug 2019 |
| Dulwich Park, London | A Star Is Born | Sun 4 Aug 2019 |
| Fulham Palace, London | Bohemian Rhapsody | Wed 18 Sep 2019 |
| Fulham Palace, London | A Star Is Born | Thu 19 Sep 2019 |
| Guildford Cathedral, Guildford | Bohemian Rhapsody | Fri 16 Aug 2019 |
| Guildford Cathedral, Guildford | Dirty Dancing | Sat 17 Aug 2019 |
| Guildford Cathedral, Guildford | Mary Poppins Returns | Sun 18 Aug 2019 |
| Hampton Court Palace, Surrey | A Star Is Born | Thu 8 Aug 2019 |
| Hampton Court Palace, Surrey | Bohemian Rhapsody | Fri 9 Aug 2019 |
| Hampton Court Palace, Surrey | Mamma Mia 2 | Sat 10 Aug 2019 |
| Hampton Court Palace, Surrey | The Greatest Showman | Sun 11 Aug 2019 |
| Harewood House, Leeds | Mamma Mia 2 | Fri 6 Sep 2019 |
| Harewood House, Leeds | A Star Is Born | Sat 7 Sep 2019 |
| Harewood House, Leeds | Bohemian Rhapsody | Sun 8 Sep 2019 |
| Harpenden Common, Harpenden | The Greatest Showman | Fri 17 May 2019 |
| Harpenden Common, Harpenden | Bohemian Rhapsody | Sat 18 May 2019 |
| Harpenden Common, Harpenden | Mamma Mia 2 | Sun 19 May 2019 |
| Hatfield House, Hertfordshire | The Favourite | Thu 22 Aug 2019 |
| Hatfield House, Hertfordshire | The Greatest Showman | Fri 23 Aug 2019 |
| Hatfield House, Hertfordshire | Dirty Dancing | Sat 24 Aug 2019 |
| Highfield Park, St Albans | Mamma Mia 2 | Wed 3 Jul 2019 |
| Highfield Park, St Albans | Bohemian Rhapsody | Thu 4 Jul 2019 |
| Holkham Hall, Norfolk | The Greatest Showman | Fri 28 Jun 2019 |
| Holkham Hall, Norfolk | Bohemian Rhapsody | Sat 29 Jun 2019 |
| Hylands House, Essex | Bohemian Rhapsody | Tue 9 Jul 2019 |
| Hylands House, Essex | Mamma Mia 2 | Wed 10 Jul 2019 |
| Hylands House, Essex | A Star Is Born | Thu 11 Jul 2019 |
| Kensington Palace, London | Young Victoria | Tue 30 Jul 2019 |
| Kensington Palace, London | The Favourite | Wed 31 Jul 2019 |
| Kensington Palace, London | A Star Is Born | Thu 1 Aug 2019 |
| Kensington Palace, London | Mary Poppins Returns | Fri 2 Aug 2019 |
| Kenwood House, London | The Favourite | Tue 16 Jul 2019 |
| Kenwood House, London | Moulin Rouge | Wed 17 Jul 2019 |
| Kenwood House, London | Bohemian Rhapsody | Thu 18 Jul 2019 |
| Knebworth House, Hertfordshire | Batman (1989) | Thu 4 Jul 2019 |
| Knebworth House, Hertfordshire | A Star Is Born | Fri 5 Jul 2019 |
| Knebworth House, Hertfordshire | Mamma Mia 2 | Sat 6 Jul 2019 |
| Knebworth House, Hertfordshire | Bohemian Rhapsody | Sun 7 Jul 2019 |
| Lincoln Castle, Lincoln | Mary Poppins Returns | Fri 27 Sep 2019 |
| Lincoln Castle, Lincoln | The Greatest Showman | Sat 28 Sep 2019 |
| Lincoln Castle, Lincoln | Bohemian Rhapsody | Sun 29 Sep 2019 |
| Lulworth Castle, Dorset | The Greatest Showman | Wed 14 Aug 2019 |
| Lulworth Castle, Dorset | Bohemian Rhapsody | Thu 15 Aug 2019 |
| Lydiard House, Swindon | Mamma Mia 2 | Sat 10 Aug 2019 |
| Lydiard House, Swindon | The Greatest Showman | Sun 11 Aug 2019 |
| Marble Hill, Twickenham | Pretty Woman | Wed 19 Jun 2019 |
| Marble Hill, Twickenham | Top Gun | Thu 20 Jun 2019 |
| Millenium Square, Leeds | Pretty Woman | Fri 16 Aug 2019 |
| Millenium Square, Leeds | Bohemian Rhapsody | Sat 17 Aug 2019 |
| Millenium Square, Leeds | Mary Poppins Returns | Sun 18 Aug 2019 |
| Morden Hall Park, London | The Greatest Showman | Fri 7 Jun 2019 |
| Morden Hall Park, London | Mamma Mia 2 | Sat 8 Jun 2019 |
| National Memorial Arboretum, Staffordshire | Bohemian Rhapsody | Fri 12 Jul 2019 |
| National Memorial Arboretum, Staffordshire | The Greatest Showman | Sat 13 Jul 2019 |
| Old Royal Naval College, Greenwich | Les Miserables | Thu 29 Aug 2019 |
| Old Royal Naval College, Greenwich | The Greatest Showman | Fri 30 Aug 2019 |
| Old Royal Naval College, Greenwich | Bohemian Rhapsody | Sat 31 Aug 2019 |
| Oystermouth Castle, Swansea | A Star Is Born | Wed 11 Sep 2019 |
| Oystermouth Castle, Swansea | Bohemian Rhapsody | Thu 12 Sep 2019 |
| Peterborough Cathedral, Peterborough | Bohemian Rhapsody | Tue 23 Jul 2019 |
| Peterborough Cathedral, Peterborough | A Star Is Born | Wed 24 Jul 2019 |
| Peterborough Cathedral, Peterborough | Mary Poppins Returns | Thu 25 Jul 2019 |
| Priory Park, Reigate | A Star Is Born | Fri 21 Jun 2019 |
| Priory Park, Reigate | Mamma Mia 2 | Sat 22 Jun 2019 |
| Priory Park, Reigate | Jurassic Park | Sun 23 Jun 2019 |
| Rochester Castle, Kent | Bohemian Rhapsody | Sat 21 Sep 2019 |
| Royal Botanic Garden, Edinburgh | A Star Is Born | Fri 30 Aug 2019 |
| Royal Botanic Garden, Edinburgh | Bohemian Rhapsody | Sat 31 Aug 2019 |
| Royal Botanic Garden, Edinburgh | Sunshine On Leith | Sun 1 Sep 2019 |
| Royal Crescent, Bath | A Star Is Born | Fri 27 Sep 2019 |
| Royal Crescent, Bath | Mamma Mia 2 | Sat 28 Sep 2019 |
| Royal Crescent, Bath | Bohemian Rhapsody | Sun 29 Sep 2019 |
| Sheffield Amphitheatre, Sheffield | Bohemian Rhapsody | Wed 4 Sep 2019 |
| Sheffield Amphitheatre, Sheffield | Mamma Mia 2 | Thu 5 Sep 2019 |
| Stonor Park, Henley-On-Thames | Bohemian Rhapsody | Fri 7 Jun 2019 |
| Stonor Park, Henley-On-Thames | Mary Poppins Returns | Sat 8 Jun 2019 |
| Stonor Park, Henley-On-Thames | The Greatest Showman | Sun 9 Jun 2019 |
| Swanley Park, Swanley | The Greatest Showman | Wed 10 Jul 2019 |
| Swanley Park, Swanley | Mamma Mia 2 | Thu 11 Jul 2019 |
| Tatton Park, Knutsford, Cheshire | A Star Is Born | Fri 23 Aug 2019 |
| Tatton Park, Knutsford, Cheshire | Mamma Mia 2 | Sat 24 Aug 2019 |
| Tatton Park, Knutsford, Cheshire | Bohemian Rhapsody | Sun 25 Aug 2019 |
| Tilgate Park, Crawley | Bohemian Rhapsody | Fri 31 May 2019 |
| Tilgate Park, Crawley | Grease | Sat 1 Jun 2019 |
| Tonbridge Castle, Tonbridge, Kent | A Star Is Born | Sat 20 Jul 2019 |
| Tonbridge Castle, Tonbridge, Kent | Bohemian Rhapsody | Sun 21 Jul 2019 |
| Tooting Common, London | Legally Blonde | Wed 26 Jun 2019 |
| Tooting Common, London | Big Lebowski | Thu 27 Jun 2019 |
| Victoria Embankment Gardens, London | Crazy Rich Asians | Tue 30 Jul 2019 |
| Victoria Embankment Gardens, London | Forrest Gump | Wed 31 Jul 2019 |
| Victoria Embankment Gardens, London | The Devil Wears Prada | Tue 6 Aug 2019 |
| Victoria Embankment Gardens, London | Labyrinth | Wed 7 Aug 2019 |
| Victoria Tower Gardens, London | Bohemian Rhapsody | Tue 20 Aug 2019 |
| Victoria Tower Gardens, London | Mary Poppins Returns | Wed 21 Aug 2019 |
| Waddesdon Manor, nr Aylesbury | Mary Poppins Returns | Fri 13 Sep 2019 |
| Waddesdon Manor, nr Aylesbury | Mamma Mia 2 | Sat 14 Sep 2019 |
| Waddesdon Manor, nr Aylesbury | Bohemian Rhapsody | Sun 15 Sep 2019 |
| Wandsworth Park, London | Green Book | Tue 16 Jul 2019 |
| Wandsworth Park, London | Pretty Woman | Wed 17 Jul 2019 |
| Warwick Castle, Warwick | A Star Is Born | Tue 10 Sep 2019 |
| Warwick Castle, Warwick | Mamma Mia 2 | Wed 11 Sep 2019 |
| Warwick Castle, Warwick | Bohemian Rhapsody | Thu 12 Sep 2019 |
| Westminster Abbey, London | A Star Is Born | Tue 13 Aug 2019 |
| Westminster Abbey, London | Some Like It Hot | Wed 14 Aug 2019 |
| Westminster Abbey, London | Shakespeare In Love | Thu 15 Aug 2019 |
| Wimbledon Park, London | Bohemian Rhapsody | Fri 21 Jun 2019 |
| Wimbledon Park, London | The Greatest Showman | Sat 22 Jun 2019 |
| Wimbledon Park, London | Jurassic Park | Sun 23 Jun 2019 |
| Wrest Park, Bedford | Pretty Woman | Fri 14 Jun 2019 |
| Wrest Park, Bedford | The Greatest Showman | Sat 15 Jun 2019 |
| Wrest Park, Bedford | Bohemian Rhapsody | Sun 16 Jun 2019 |
| York Castle Howard, York | The Greatest Showman | Fri 26 Jul 2019 |
| York Castle Howard, York | Bohemian Rhapsody | Sat 27 Jul 2019 |
| York Castle Howard, York | A Star Is Born | Sun 28 Jul 2019 |
| York Minster, York | Bohemian Rhapsody | Wed 28 Aug 2019 |
| York Minster, York | Mamma Mia 2 | Thu 29 Aug 2019 |