Best immersive outdoor cinema experiences this summer in the UK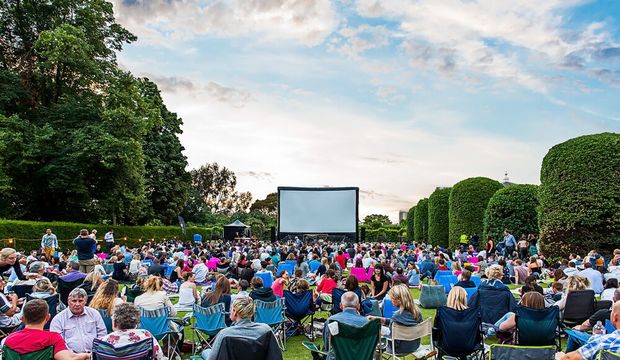 Enjoy curated film and venue pairings this outdoor cinema summer season
Why squander the summer in a soulless multiplex? Open air cinema companies across the UK are screening films in settings that are both beautifully atmospheric and thematically resonant, creating immersive cinematic experiences without the need for the total darkness of the movie theatre. Here's some of the best open air screenings happening in the UK this summer. Be sure to check out each cinema company for full listings.
Birmingham: Jurassic Park at the Botanics
Where on earth is a better place to to see this iconic Speilberg film than surrounded by flora and fauna. The film screens on Sat 17 Aug in the city's Botanical Garden but fear not, that dastardly T-Rex didn't get an invite. Other screening at this location include Grease (Thu 15 Aug), Bohemian Rhapsody (Fri 16 Aug), A Star is Born (Wed 15 Sep), Pulp Fiction (Thu 12 Sep) and Mamma Mia! Here We Go Again (Fri 13 Sep).
Book tickets with Summer Screens.
Brighton: Moana on the beach
Taking place right on the shores of Brighton Beach, Luna Cinema's inaugural beach programme is fittingly maritime-themed in parts with a whole host of other blockbusters thrown in. Screenings of Moana (Sun 18 Aug), Finding Dory (Sun 18 Aug), The Little Mermaid (Mon 12 Aug) and Sharknado/The Meg (Mon 5 Aug) will go ahead alongside many others.
Book tickets with Luna Beach Cinema.
Bristol: Black Panther at the zoo
Unleash the animal within as Summer Screens takes over the gardens at Bristol Zoo, with screenings of Black Panther (Wed 26 Aug), Green Book (Thu 29 Aug), the much-talked about hit Bohemian Rhapsody (Fri 30 Aug), Spielberg's Jurassic Park (Sat 31 Aug) and feel-good musical Mamma Mia! Here We Go Again (Sun 1 Sep).
Book tickets with Summer Screens.