The Little Mermaid is expected to take home 117 million dollars over Memorial Day Weekend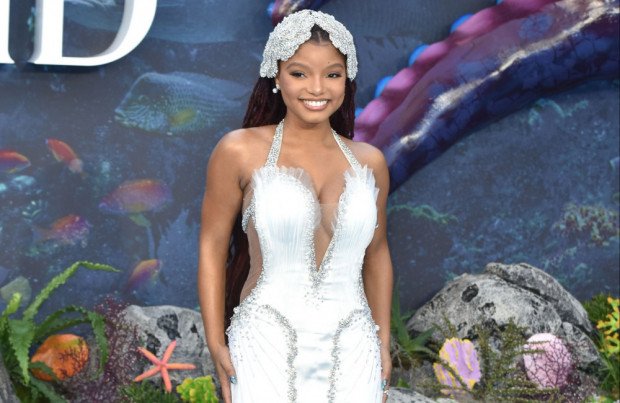 The live action version 'The Little Mermaid' is expected to take home $117 over the long Memorial Day Weekend as its star Halle Bailey cites Brandy as a "inspiration" and reflects on the "beautiful moment" of seeing black girls like her watch her on-screen
'The Little Mermaid' is expected to take home $117 million over Memorial Day Weekend
The live action version of the 1989 animated classic – which kicked off the Disney Renaissance of the 90s – cost $250 million to make so it is on track to turn a profit for the Walt Disney Studios.
The Rob Marshall-helmed remake – which stars Halle Bailey in the title role – was dubbed "a classic" by big wigs at the movie studio as they looked forward to droves of people watching the flick with "the next generation.
Tony Chambers, the head of distribution at Disney told Variety: "It's a classic. You ask a lot of women or men of my age and it's 'Little Mermaid' and 'Beauty and the Beast' that rank as their favorite animated movie. It's a story that takes them back to their respective childhoods and this movie is the perfect opportunity for a lot of people to pass that love on to the next generation."
Halle revealed she was "inspired" by the R+B icon Brandy's turn as Cinderella in the 1997 movie of the same name.
The 23-year-old actress told Entertainment Tonight: "I just am really grateful to be in this position. I loved Brandy as Cinderella; she was so amazing, such a role model and inspiration, and a really big kind of studying point for me as I was taking on Ariel. I just watched how amazing she was in that role and how comfortable she was in her skin and how impactful to audiences and little girls like me who watched it. And Anika Noni Rose, who's just outstanding.
"I've had the chance to meet her and we got to sing ['The Princess and the Frog'] song together, 'Almost There' for [2022's 'Disney Family Singalong'] with my sister. She was always so kind! But there are these beautiful black women pioneers who've done this before and been there for me to be able to say, 'OK, I can do this."
The 'Do It' hitmaker called all the little girls who look like her getting to see themselves in the role as "a beautiful moment".
Halle said: "It's been such a beautiful moment for me to be able to see the reactions of the babies — it makes me just emotionally overwhelmed honestly and I cry as soon as I watch them. I think of the little girl that's still in me, honestly, and it heals that girl inside of me to watch them feel like they have representation and someone to look to, to know that they deserve to be in those places too. [It's] so important. It just makes me cry anytime I see any of those videos."