Margot Robbie: 'Clueless inspired Barbie'
Bang Showbiz
17 June 2023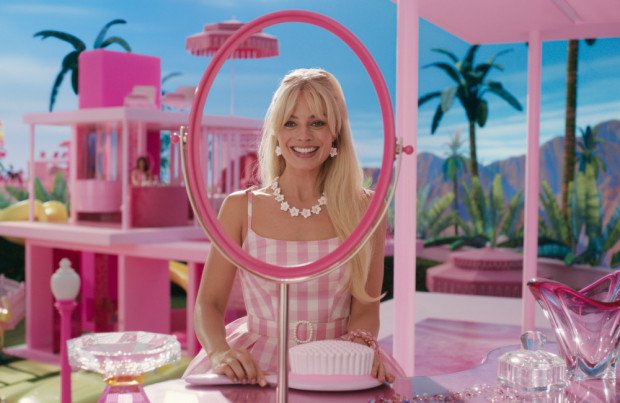 Margot Robbie says 'Clueless' inspired her wardrobe in the 'Barbie' movie and she shared some insights into how Barbie's outfits are created
Margot Robbie says 'Clueless' inspired her wardrobe in the 'Barbie' movie.
The 32-year-old actress stars as the title character in the upcoming movie from Greta Gerwig and revealed that they turned to Amy Heckerling's 1995 classic 'Clueless' for inspiration.
Margot told Architectural Digest: "We were saying that the wardrobe in 'Clueless', like, the bar was set so high, and we would really like to do something that is as cool as that.
"Each day, her outfit is already magically here in her wardrobe. She opens the doors, all she needs to do is look at it, gives a spin, and then it's on her body and she walks off, and her outfit for the next day is sitting in the wardrobe behind her."
Meanwhile, Margot previously revealed she doesn't remember having her own Barbie doll but was obsessed with the famous Dream House.
Speaking on 'The Kelly Clarkson Show', Margot – who appears alongside the likes of Ryan Gosling, Ncuti Gatwa, Dua Lipa, and America Ferrera in 'Barbie' – said: "I don't remember having my own Barbies but my cousin had a box of them. They were all her Barbies. We would cut their hair and do all that stuff. But I did get the foldout house one Christmas when I was young and that was everything. I was obsessed, it was the Dream House.
"Honestly, coming into this movie that was such a priority for me, the sets, getting to see them be built right in front of us and they were just huge real-life versions of the Dream House. It was so amazing and it was so beautiful. The first thing I said to [director ] Greta Gerwig when we first sat down and talked about the movie. I said 'I will follow your vision, whatever you want it to be, let's do that. [But] please, please, please can we have a dream house with a slide from the bedroom down to the pool? That is my goal in life!' And she was like 'Sure!'"
'Barbie' will be released on July 21.