Margot Robbie refused to use foot double for Barbie shoe scene
Bang Showbiz
28 June 2023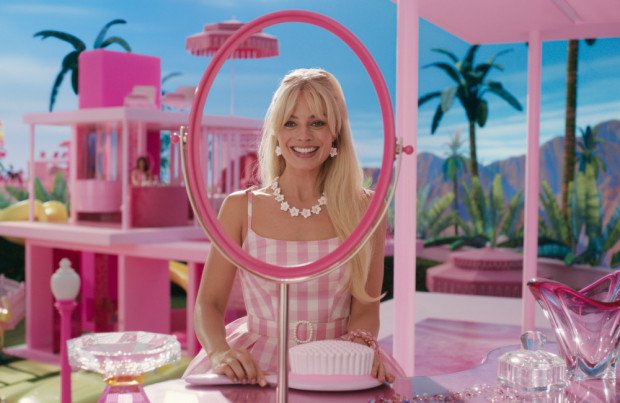 Margot Robbie has revealed her feet were featured in a scene in the new Barbie movie in which the iconic doll character is seen taking off her shoes to reveal her perfect arches - as the actress refused to use a foot double
Margot Robbie refused to use a foot double for the 'Barbie' shoe scene which went viral.
The Australian actress stars in the new movie about the iconic doll and footage of Barbie slipping off her high heels sparked a huge buzz on social media after it was featured in the trailer – and Margot has now insisted she wanted to film the scene herself instead of using someone else's feet.
During an interview with 'Fandango', she explained: "It was probably about eight takes. Wasn't that many. They are my feet. I walked up, we had little sticky bits on the floor, double-sided tape for the shoes, so they wouldn't come off, so I could get my feet out of them. And I was holding onto, like, a bar. But that's it. I wasn't in a harness or anything like that. I just walked up, kind of held onto the bar above [the] camera."
When asked about her perfect arches, the actress explained it could be down to childhood ballet lessons, adding: "I did ballet when I was a kid."
She also insisted she wanted to shoot the feet scenes herself because she hates using doubles. Margot went on: "I always try and do my own inserts. I don't like when I watch a movie and I know it's not my hands. I hate that so much. I always say to the director, 'Please let me do all my own things'. I don't like knowing that I didn't do it."
It comes after Margot revealed Barbie's wardrobe scenes were inspired by a closet shot in Alicia Silverstone's 1995 teen movie 'Clueless'.
Margot told Architectural Digest: "We were saying that the wardrobe in 'Clueless', like, the bar was set so high, and we would really like to do something that is as cool as that. "Each day, her outfit is already magically here in her wardrobe. She opens the doors, all she needs to do is look at it, gives a spin, and then it's on her body and she walks off, and her outfit for the next day is sitting in the wardrobe behind her."