Margot Robbie 'bribed' Ryan Gosling into Barbie role
Bang Showbiz
16 July 2023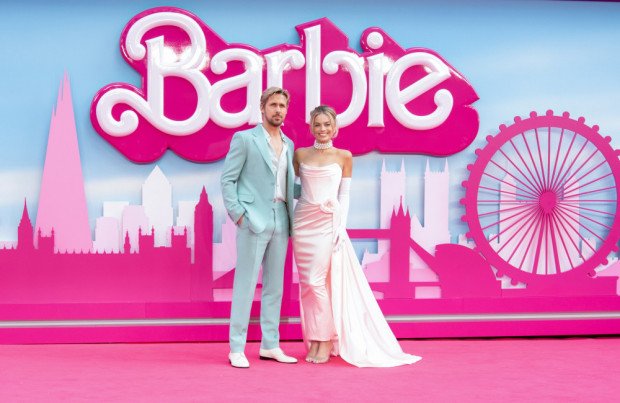 Margot Robbie sent Ryan Gosling a present every day of shooting the 'Barbie' movie
Margot Robbie "bribed" Ryan Gosling into playing Ken.
The 33-year-old actress produced the 'Barbie' movie as well as taking on the lead role, and she promised the 42-year-old actor she would bring him a present every day if he agreed to sign up for the film – and Ryan was stunned by the deluge of pink gifts he received.
Margot told the New York Times newspaper: "I just bribed him really. That's the basis of our relationship. 'Just come do the 'Barbie' movie, I'll buy you a present every day.' "
Ryan added: "There was suddenly this pink present from Barbie to Ken, every day, for a very long shoot.
"It felt unsustainable. I thought this has to stop at some point.
"There were times on set where I got a puka shell necklace. Thank you very much. You don't have to keep doing this. I'm sure you have other things to do, like produce a movie and star in a movie, and run a company. And produce other people's films. You don't have to keep concerning yourself with this."
Meanwhile, Margot dismissed critics who have suggested Ryan was too old for the role, insisting it shouldn't be a barrier to people enjoying the film.
She said: "Barbie and Ken are technically in their 60s. So whatever.
"The first thing I thought when I heard that was, in Grease, they are supposed to be high schoolers, and not once in the 150 times that I've watched 'Grease' over the years did I ever not enjoy 'Grease' because I was like, 'I need to go check what age they were.'
"They found the most charismatic, talented people to dazzle me. And that's why I love that movie."
But Ryan admitted he had some concerns, though he ultimately trusted in the vision Margot and director Greta Gerwig had for the picture.
He said: "I mean, in fairness, I doubted what I've come to understand as 'Kenergy.'
"But at the end of the day, I trust Margot and Greta. They have such a clear vision for this that I decided to just Ken as hard as I could."