Christopher Nolan's daughter is a nameless burns victim in Oppenheimer
Bang Showbiz
17 July 2023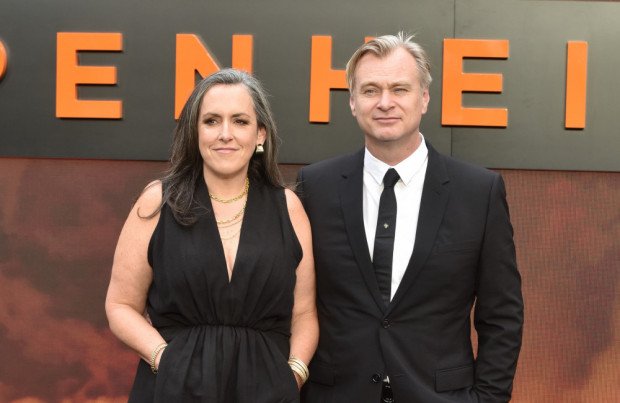 Christopher Nolan's eldest child, daughter Flora, makes a cameo in the forthcoming flick
Christopher Nolan has revealed why he cast his own daughter Flora as a nameless burn victim in 'Oppenheimer'.
The legendary director helmed the eagerly-awaited historical drama – which stars Cillian Murphy as J. Robert Oppenheimer, the physicist behind the nuclear bomb – and choosing his eldest daughter for the tragic role meant he could express, in the "strongest possible terms", the devastation of a loved one being destroyed by a "destructive power".
The part is of a "young woman who appears to the title character in a hellish, conscience-pricking vision, in which the flesh is flayed from her face by a piercing white light."
Nolan told The Telegraph: "We needed someone to do that small part of a somewhat experimental and spontaneous sequence.
"So it was wonderful to just have her sort of roll with it."
Insisting it was not a premeditated idea to cast his college-aged girl, he added: "But yes, I mean, gosh, you're not wrong. Truthfully, I try not to analyse my own intentions. But the point is that if you create the ultimate destructive power it will also destroy those who are near and dear to you. So I suppose this was my way of expressing that in what, to me, were the strongest possible terms."
Flora and his wife and producer Emma Thomas – with whom he has three other children – were visiting the set during production when he made the impromptu decision.
Meanwhile, Nolan refused to use CGI in 'Oppenheimer'.
The 52-year-old director explained how he required "the bite of real-world imagery" to portray the danger of the weapon.
Speaking to Collider, he said: "There are no CGI shots in this movie.
"I think computer graphics, they're very versatile, they can do all kinds of things, but they tend to feel a bit safe. That's why they're difficult to use in horror movies. Animation tends to feel a little safe for the audience."
The 'Inception' filmmaker continued: "The Trinity test, ultimately, but also these early imaginings of Oppenheimer visualising the Quantum Realm, they had to be threatening in some way. They had to have the bite of real-world imagery. The Trinity test, for those who were there, was the most beautiful and terrifying thing simultaneously, and that's where we were headed for this film."