Barbie is officially the highest-grossing movie of 2023
Bang Showbiz
3 September 2023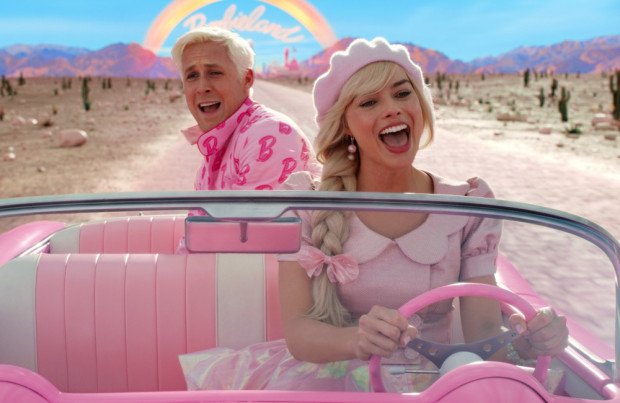 'Barbie' has become the highest-grossing movie of 2023, as 'Oppenheimer' also sets a new record
'Barbie' has become the highest-grossing movie of 2023.
The blockbuster summer comedy – which stars Margot Robbie as the titular Mattel doll – has reportedly passed 'The Super Mario Bros. Movie' at the box office, with Variety revealing that on Saturday (02.09.03), the film has now brought in a total of $1.36 billion since its release in July.
In recent days, 'Barbie' also became Warner Bros' highest-grossing film ever as it passed the record set by 'Harry Potter and the Deathly Hallows Part Two', which was the final instalment of the megahit wizarding franchise based on the magical book series by J.K Rowling.
Greta Gerwig's smash hit – which also stars Ryan Gosling as Barbie's boyfriend Ken – was released on the same day as wartime drama 'Oppenheimer' and the two films sparked a phenomenon known as Barbeheimer due to their polarity, and the weekend also saw the Christopher Nolan- directed epic become the second-highest-grossing R-rated movie in history.
The biopic which chronicles the career of American theoretical physicist J. Robert Oppenheimer has now collected a reported $787 million at the box office, meaning that it has overtaken the record set by Ryan Reynolds' 2018 hit 'Deadpool 2', which made $785 million and was also deemed unsuitable for those under the age of 17.
This means that the drama – which was directed by Christopher Nolan and stars Cillian Murphy as the titular wartime hero – is just behind 'Joker' on the list of highest-grossing R-rated movies ever, which became the first movie of its kind to surpass the $1 billion mark following its release in 2019.
'Guardians of the Galaxy Vol. 3' currently stands as the third-highest-grossing film of 2023, having taken $845,522,394 at the box office.