Birdman and The Grand Budapest Hotel big winners at 2015 Oscars
Bang Showbiz
23 February 2015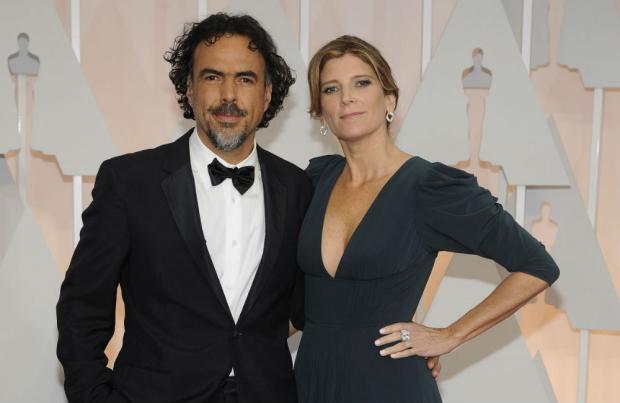 'Birdman' and 'The Grand Budapest Hotel' were the big winners at the 2015 Oscars, both taking home four awards
'Birdman' and 'The Grand Budapest Hotel' were the big winners at the 87th Annual Academy Awards last night (22.02.15).
Alejandro Gonzalez Iñárritu's comedy drama about an ageing film star trying to reinvent himself as a Broadway actor, which starred Golden Globe winner Michael Keaton, took home the Best Picture, Best Director, Best Cinematography and Best Original Screenplay prizes at the 2015 Oscars ceremony at the Dolby Theater in Los Angeles.
The film fought off stiff competition from Richard Linklater's 'Boyhood' - which was filmed over a twelve-year period - to win Best Picture and Best Director at the prestigious event and saw Iñárritu dedicate his accolade to his fellow Mexicans in both Mexico and the US who deserve "dignity and respect".
Meanwhile, Wes Anderson's 'The Grand Budapest Hotel' - which featured a star-studded cast including Ralph Fiennes, Bill Murray, Willem Defoe and Adrien Brody - also received four awards.
The film about the adventures of the concierge and lobby boy at the legendary hotel in the fictional ski resort of the Republic of Zubrowka was presented with Oscars for Best Makeup and Hairstyling, Best Production Design, Best Original Score and Best Costume Design.
Other notable winners included Boyhood's Patricia Arquette and 'Whiplash' star J.K. Simmons who were named Best Supporting Actress and Best Supporting Actor respectively while 'The Imitation Game' received the Best Adapted Screenplay gong.
Screenwriter Graham Moore opened up about how he tried to end his own life as a teenager as he accepted the award for his World War II drama about Alan Turing - who solved the enigma code but committed suicide aged 41 after being prosecuted for homosexuality.
Speaking about the film, which starred Best Actor nominee Benedict Cumberbatch as Turing, Moore said: "I tried to commit suicide at 16 and now I'm standing here. I would like for this moment to be for that kid out there who feels like she doesn't fit in anywhere.
"You do. Stay weird. Stay different, and then when it's your turn and you are standing on this stage please pass the same message along."
The full winners list is as follows:
Best Picture
'American Sniper'
'Birdman' - WINNER
'Boyhood'
'The Grand Budapest Hotel'
'The Imitation Game'
'Selma'
'The Theory of Everything'
'Whiplash'
Best Director
Alejandro G. Iñárritu - 'Birdman' - WINNER
Richard Linklater - 'Boyhood'
Bennett Miller - 'Foxcatcher'
Wes Anderson - 'The Grand Budapest Hotel'
Morten Tyldum - The Imitation Game'
Best Actor
Steve Carell - 'Foxcatcher'
Bradley Cooper - 'American Sniper'
Benedict Cumberbatch - 'The Imitation Game'
Michael Keaton - 'Birdman'
Eddie Redmayne - 'The Theory of Everything' - WINNER
Best Actress
Marion Cotillard - 'Two Days One Night'
Felicity Jones - 'The Theory of Everything'
Julianne Moore - 'Still Alice' - WINNER
Rosamund Pike - 'Gone Girl'
Reese Witherspoon - 'Wild'
Best Supporting Actor
Robert Duvall - 'The Judge'
Ethan Hawke - 'Boyhood'
Edward Norton - 'Birdman'
Mark Ruffalo - 'Foxcatcher'
J.K. Simmons - 'Whiplash' - WINNER
Best Supporting Actress
Patricia Arquette - 'Boyhood' - WINNER
Laura Dern - 'Wild'
Keira Knightley - 'The Imitation Game'
Emma Stone - 'Birdman'
Meryl Streep - 'Into the Woods'
Best Cinematography
'Birdman' - Emmanuel Lubezki - WINNER
'The Grand Budapest Hotel' - Robert Yeoman
'Ida' - Lukasz Zal & Ryszard Lenczewski
'Mr. Turner' - Dick Pope
'Unbroken' - Roger Deakin
Best Foreign Language Film
'Ida' - WINNER
'Leviathan'
'Tangerines'
'Timbuktu'
'Wild Tales'
Best Adapted Screenplay
'American Sniper'
'The Imitation Game' - WINNER
'Inherent Vice'
'The Theory of Everything'
'Whiplash'
'Best Original Screenplay
'Birdman' - WINNER
'Boyhood'
'Foxcatcher'
'The Grand Budapest Hotel'
'Nightcrawler'
Best Makeup and Hairstyling
'Foxcatcher'
'The Grand Budapest Hotel' - WINNER
'Guardians of the Galaxy'
Best Original Score
'The Grand Budapest Hotel' - WINNER
'The Imitation Game'
'Interstellar'
'Mr. Turner'
'The Theory of Everything'
Best Original Song
'Lost Stars' - 'Begin Again'
'Everything is Awesome' - 'The LEGO Movie'
'Glory' - 'Selma' - WINNER
'Grateful' - 'Beyond the Lights'
'I'm Not Gonna Miss You' - 'Glen Campbell...I'll Be Me'
Best Animated Feature
'Big Hero 6' - WINNER
'The Boxtrolls'
'How to Train Your Dragon 2'
'Song of the Sea'
'The Tale of Princess Kaguya'
Best Documentary--Short
'Crisis Hotline: Veterans Press 1' - WINNER
'Joanna'
'Our Curse'
'The Reaper'
'White Earth'
Best Film Editing
'American Sniper'
'Boyhood'
'The Grand Budapest Hotel'
'The Imitation Game'
'Whiplash' - WINNER
Best Production Design
'The Grand Budapest Hotel' - WINNER
'The Imitation Game'
'Interstellar'
'Into the Woods'
'Mr. Turner'
Best Animated Short
'The Bigger Picture'
'The Dam Keeper'
'Feast' - WINNER
'Me and My Moulton'
'A Single Life'
Best Live Action Short
'Aya'
'Boogaloo and Graham'
'Butter Lamp'
'Parvaneh'
'The Phone Call' - WINNER
Best Sound Editing
'American Sniper' - WINNER
'Birdman'
'The Hobbit: The Battle of the Five Armies'
'Interstellar'
'Unbroken'
Best Sound Mixing
'American Sniper'
'Birdman'
'Interstellar'
'Unbroken'
'Whiplash' - WINNER
Best Visual Effects
'Captain America: The Winter Soldier'
'Dawn of the Planet of the Apes'
'Guardians of the Galaxy'
'Interstellar' - WINNER
'X-Men: Days of Future Past'
Best Documentary -- Feature
'Citizenfour' - WINNER
'Finding Vivien Maier'
'Last Days of Vietnam'
'The Salt of the Earth'
'Virunga'
Best Costume Design
'The Grand Budapest Hotel' - WINNER
'Inherent Vice'
'Into the Woods'
'Maleficent'
'Mr. Turner'