Storm Reid doesn't think she'll work with another female-heavy cast
Bang Showbiz
8 March 2018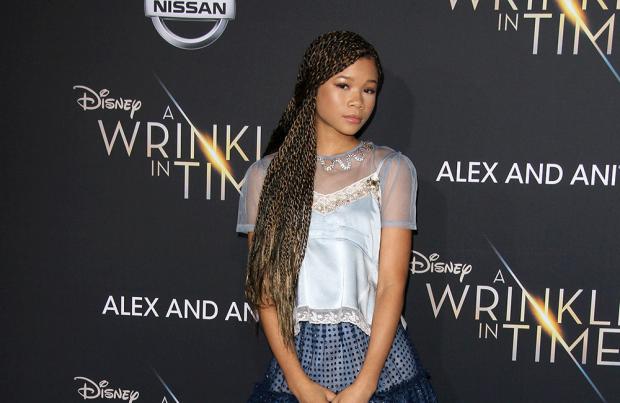 Storm Reid has admitted she doesn't think she will have the "privilege" to work with another predominately female cast after starring in 'A Wrinkle in Time'
Storm Reid doesn't think she will have the "privilege" to work with another predominately female cast.
The 14-year-old actress stars in Ava DuVernay's new Disney movie 'A Wrinkle in Time' alongside the likes of Oprah Winfrey, Reese Witherspoon and Mindy Kaling, and admitted it was the first time she has worked on a set with "so many women".
She told Entertainment Weekly: "This was the first set I've been on with so many women.
"I felt like everybody was represented on that set -- it looked, like Miss Ava said, like the United Nations there.
"I hope that I'll get to experience that again and I hope that Hollywood can normalise that, but I'm just not sure if I will have the privilege to experience that on the next set I go onto, which is unfortunate, but it may be true."
The film - which is based on the 1962 novel of the same name by Madeleine L'Engle - follows Meg Murry [Reid] who works with her highly intelligent brother and fellow student Calvin O'Keeffe [Levi Miller] and three astral travellers Mrs. Which [Winfrey], Mrs. Whatsit [Witherspoon] and Mrs. Who [Kaling] to rescue her father Alex [Chris Pine] who is being held captive on a distant planet.
Reid isn't the only cast member to praise the diverse cast, after Witherspoon, 41, recently said the production will be important for young people everywhere as the cast means everyone is equally represented.
When asked how important she thinks the movie will be, Witherspoon said: "I read the book as a little girl, and I really was excited when Ava explained her vision for the film.
"She was like, 'I'm gonna deviate a lot. I want to have the house in Downtown LA. I want the kids to be of all different ethnicities. I want kids to watch this movie and know that anything's possible.'
"I get emotional, thinking how little kids going to the theatre will actually see a character and an actor that looks like them. That will make them think it's possible.
"And also, they'll see women who are heroes, who are all different sizes and all different races. Women are the heroes of a lot of kids' lives, and to see that properly represented is way overdue and exciting.
"I think it's exciting to have a director with that kind of vision, and to have Disney's belief in her, to give her an incredible amount of creative control and free reign to create this magic."