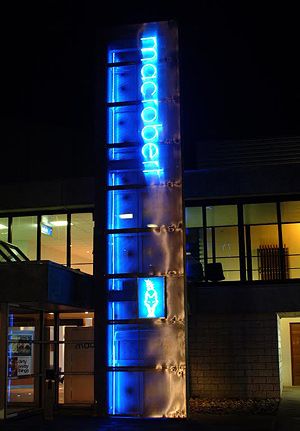 With a mission to act as a thriving arts centre, the Macrobert Arts Centre in Stirling is a hub of cultural activity.
The venue, which can be found on the University of Stirling's main campus, was originally opened in the 1970s and was established as a multi-purpose arts centre serving Stirling and the Forth Valley.
Today, a wide variety of activities are on offer at the centre. Film screenings are held in the Normal McLaren filmhouse cinema, and over 400 live performances of drama, music, comedy, and opera can be found in the theatre. The space also holds art exhibitions.
As well as supporting existing artistic projects, the Macrobert is also actively involved in the creation of new work.
Located at the heart of the University of Stirling, Macrobert Arts Centre is a cultural hub for Stirling, the Forth Valley and Scotland. Macrobert's vision is to promote and develop participation in and enjoyment of the arts and they offer a huge variety of activities with over 400 live performances - comedy, dance, drama, family friendly, music, opera - art exhibitions, a range of opportunities for all ages to get involved and a year round cinema programme. Macrobert Arts Centre is also proud to be one of Creative Scotland's Regularly Funded Organisations, selected for our contribution to a creative Scotland in terms of talent, quality productions, access, audience development, participation and outreach work.
Text supplied by venue or third party.
Tell us more about this venue.