Whilst every effort has been made to ensure the information displayed here is accurate, always check with the venue before attending.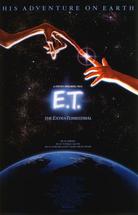 Directed by: Steven Spielberg
Cast: Dee Wallace-Stone, Henry Thomas, Peter Coyote
For the 20th anniversary of this fable about a peaceful alien marooned on Earth, Spielberg dusted off his beloved original and re-released it in a new and improved form featuring digital tinkering (ET's eyes, for example, have been 'enhanced' to make him appear more alien) and never before screened scenes such as ET having a bath. But most interesting is the excision of all the firearms - the American authorities chasing ET and his human friend Elliot are now armed with nothing more threatening than mobile phones.
There's something a bit precious about this kind of cleansing of the film. Still, as a fantasy adventure for kids and 'adult kids' alike, 'ET' remains some kind of modern classic.
Sun 15 Oct
Officially opened in 1921, the cinema fell into disrepair prior to a restoration project in the late 1990s.
Tell us more about this venue.