If you have always wanted to join a choir locally, you can!
The Sudbury Rock Choir is led by local musician Adam Henriksen. We support a number of local good causes, raising money and awareness around Suffolk and as a choir we also join up with the other choirs near us to sing to support national charities such as Sign2sing, British Airways Flying Start and the Edinburgh and London Moonwalk's with flash mobs, fundraising events and concerts.
If you find yourself racing through the week with no time for yourself, or struggling to meet new people in Sudbury, then joining your local social singing group could be just the thing for you. With our unique, no-pressure approach to teaching and fun, uplifting arrangements of your favorite hit songs Adam will guide you through your weekly dose of music, fun and laughter.
Here is a quote about our choir - 'Rock Choir is a great experience of great music, friendship and for me personally has been a confidence booster.' - John (Rock Choir Member)
Rock Choir is a winner of the Red Ribbon 'Big Heart' Award [https://rockchoir.com/awards-achievements/]. and holds 1 former and 2 current Guinness World Records. The choir is also credited with single handedly starting the contemporary choir movement.
Wed 17 Jan
Wed 24 Jan
Wed 7 Feb
Wed 21 Feb
Wed 6 Mar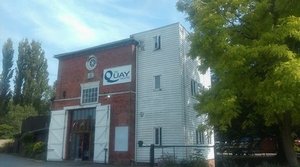 The Quay Theatre has been open as a theatre since the early 1980s when it was converted from a grain store. It has been standing since 1791 and is in a beautiful area for walking, wildlife and visiting historic Sudbury.
The theatre has seating for 125 (live shows) and 90 (screenings) with a bar serving drinks and snacks. Shows vary from local productions to well known professionals, tribute acts, NT Live, cinema, comedy and lots more.
We also host a pop up restaurant Shillingfords, every Thursday, Friday and Saturday night in a room on the top floor. Our venue and its other areas are also available for hire for both private and professional events.
Text supplied by venue or third party.
Tell us more about this venue.