Whilst every effort has been made to ensure the information displayed here is accurate, always check with the venue before attending.

Calling all Babooshkas, Army Dreamers and Rubberband Girls! Put on your Red Shoes, saddle up the Hounds Of Love and get Running Up That Hill as we head to the Top Of The City (aka Bethnal Green Working Men's Club) for a night dedicated to the genius of the iconic Kate Bush! HEADS WE'RE DANCING: We'll be doing the Jig Of Life and Moving around the dancefloor to all of Kate's best singles, album tracks and collaborations, all interspersed with Moments Of Pleasure from complimentary artists such as Tori Amos, Eurythmics, Florence + The Machine, David Bowie, Bjork, Pet Shop Boys and more! CLOUDBUSTING: We'll be creating an authentic atmosphere for Them Heavy People through an overuse of smoke machines to accompany the free Kate face masks, Kate lyric posters and Kate capes (yes, CAPES!) that we'll be giving away on a first come, first served basis on the night! WOW: Dressing up is positively encouraged as we'll be having 'Bush-offs' during the night, where lucky contestants will be invited onto our stage to lip-sync for their lives to selected songs from the Bush back catalogue, with prizes for the ultimate King Of The Mountain! EAT THE MUSIC: And we'll be playing Kate's iconic debut single Wuthering Heights on the hour, every hour (alternating both versions)!
Fri 26 Jan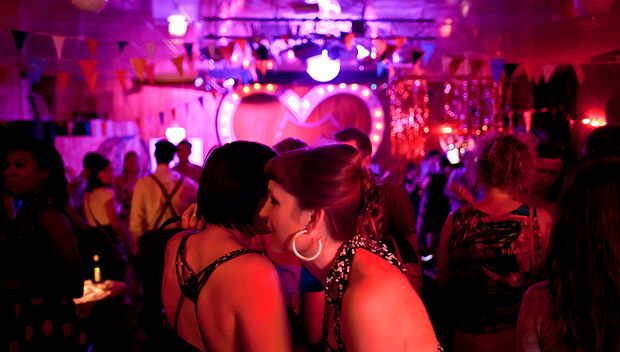 'A must see on the nightlife map.' – Timeout
'East End's most celebrated nightspot.' – Londonist
'One of the city's hottest underground club nights.' – Harpers Bazaar
Tucked away off the beaten track (off Bethnal Green Road), just east of Shoreditch in London – that's where we are.
Since 1953 we've been a real east-end Workingmen's Club and we like to have a good time!
In fact we hold regular social events each week.
Some racy, others cultural and refined, but mostly wild and unhinged good-times.
We're not your typical 'club' venue.
Not only do we put on a damn good night out, but we engage and encourage the growth of local artists, musicians, DJs, and performers; working with them to create and promote all sorts of accessible events.
We're seen by many as a vital part of community life, surviving with our original purpose intact but reinvigorated with an improved programme of events.
We produce evocative and interactive events, curating unpretentious happenings in the club and beyond that give guests not just a great time but an experience to take away.
Text supplied by venue or third party.
Tell us more about this venue.