Live At Hammersmith Odeon is a recorded performance of Kate's first and only concert tour, The Tour Of Life from 1979. One of the great underseen concert films. Kate never went on to perform much after this show, but the sheer breadth of her performance here shows that she had nothing more to prove after this tour. The Tour of Life showcased the artist in all her fearless glory, mixing modern dance, stylized visuals, and an idiosyncratic stage presence into a compelling whole unlike any rock concert before. This is an 18+ event .
Wed 6 Jul

"A Drag Troupe Who Mime To Pop Songs, But They're Not A Night Out With Danny Larue. It's Not Rupaul's Drag Race, It's Weird, Wild, Funny And Fresh" ★★★★★ (The Scotsman)
Fri 8 Jul

"A drag troupe who mime to pop songs, but they're not a night out with Danny LaRue. It's not RuPaul's drag race, it's weird, wild, funny and fresh" ★★★★★ (The Scotsman)
 Doors 8pm. Special guest on stage at 9pm. Full show. DJs and pop-ups til 2am.
 New skits, classic hits and all the usual chutzpah!
 No entry after midnight.
 "Just what is it that makes The LipSinkers so different, so appealing? It's a hard thing to pin down, but basically it comes down to high-octane, queer exuberance of the first order" ★★★★★ Time Out
 www.thelipsinkers.com
 @thelipsinkers
Fri 8 Jul
£10 Adv; £12.50 On the door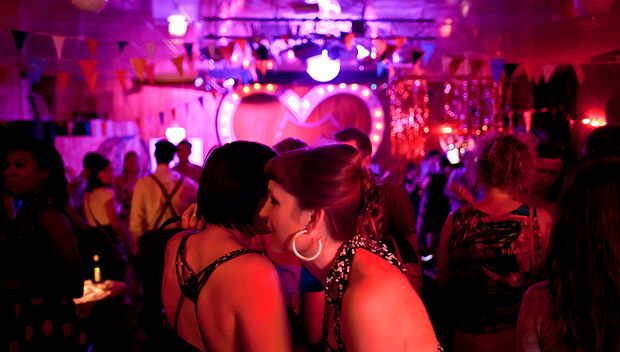 'A must see on the nightlife map.' – Timeout
'East End's most celebrated nightspot.' – Londonist
'One of the city's hottest underground club nights.' – Harpers Bazaar
Tucked away off the beaten track (off Bethnal Green Road), just east of Shoreditch in London – that's where we are.
Since 1953 we've been a real east-end Workingmen's Club and we like to have a good time!
In fact we hold regular social events each week.
Some racy, others cultural and refined, but mostly wild and unhinged good-times.
We're not your typical 'club' venue.
Not only do we put on a damn good night out, but we engage and encourage the growth of local artists, musicians, DJs, and performers; working with them to create and promote all sorts of accessible events.
We're seen by many as a vital part of community life, surviving with our original purpose intact but reinvigorated with an improved programme of events.
We produce evocative and interactive events, curating unpretentious happenings in the club and beyond that give guests not just a great time but an experience to take away.
Text supplied by venue or third party.
Tell us more about this venue.