Girl Power Gang, what can we say? We have missed you! Life hasn't been the same without a screaming chorus of Cher, Rihanna or the Spice Girls, while our eyes tear up with joy under our glitter makeup in the middle of a shower of confetti. Who run the world? The answer is still: Girls, obviously. Girl Power LDN is the whole deal - the quintessential girls' night out, but for everyone! We've been delivering our incredible all-female DJ line ups, ever-surprising Drag Performers & a never ending trail of glitter to festivals and clubs for the past 5 years, and we are so excited to bring it back home to the fabulous Bethnal Green Working Men's Club. If you've never been to Girl Power before then get ready to party to the best female & LGBTQ line ups playing tracks from the queens of R'n'B and pop. From 90s babes to present day divas, Girl Power brings you a night full of the titans of female music Bey, Ri, Ari, Tay, J-Lo, Nicki, Xtina and more. Post your requests on the event wall and come ready to SLAY! Taking the stage are our resident DJ babes – guiding you through the night with the songs you can't get out of your head, and the songs you didn't know you needed to hear! Nostalgia, anthems, freshest hits, it's all there. DJ's: J-Low, Miffy Coleman & special guests Performances: Bourgeoisie & Special Guests Drag Superstar, Bourgeoisie, will join us with pumping performances and incredible looks. Bougie has always been a Girl Power favourite and you know she'll supply the most veracious performances with the most fabulous outfits! At each event Bougie will invite a fabulous friend onto the Girl Power stage to give you a dazzling performance full of female empowerment. 100% good vibes and killer moves. Free Entry if it's your birthday between October 16th and November 15th. All you need to do to claim is to send a photo of your ID to girlpowerlondon@gmail.com with the subject 'Girl Power November'
Fri 2 Dec
Girl Power Gang, what can we say? We have missed you! Life hasn't been the same without a screaming chorus of Cher, Rihanna or the Spice Girls, while our eyes tear up with joy under our glitter makeup in the middle of a shower of confetti. Who run the world? The answer is still: Girls, obviously. Girl Power LDN is the whole deal - the quintessential girls' night out, but for everyone! We've been delivering our incredible all-female DJ line ups, ever-surprising Drag Performers & a never ending trail of glitter to festivals and clubs for the past 5 years, and we are so excited to bring it back home to the fabulous Bethnal Green Working Men's Club. If you've never been to Girl Power before then get ready to party to the best female & LGBTQ line ups playing tracks from the queens of R'n'B and pop. From 90s babes to present day divas, Girl Power brings you a night full of the titans of female music Bey, Ri, Ari, Tay, J-Lo, Nicki, Xtina and more. DJ's: J-Low, & special guests Queens: Bourgeoisie & Special Guest 100% good vibes and killer moves. Doors open at 9pm. (Everyone welcome). Strictly 18+ Unfortunately we are unable to host Hen or Stag parties. *ADV Tickets are valid until 11pm on the night - if you arrive after this time, you may not be able to gain entry. This is an 18+ event (Photo ID Required).
Fri 3 Feb
Fri 3 Mar
Fri 7 Apr
Fri 5 May

The LipSinkers in The Winter of our Disco
The LipSinkers take their buns of steel to the jaggedy spike fest that was 2022 and round off the year with an entirely mimed musical romp over everything right & wrong.
Classic hits, Yuletide skits and all the usual chutzpah.
Special Guest and DJs.
Pucker up and plant a smacker on the two little ducks that sank the QE2 ……and Steve Wright in the afternoon.
Thu 15 Dec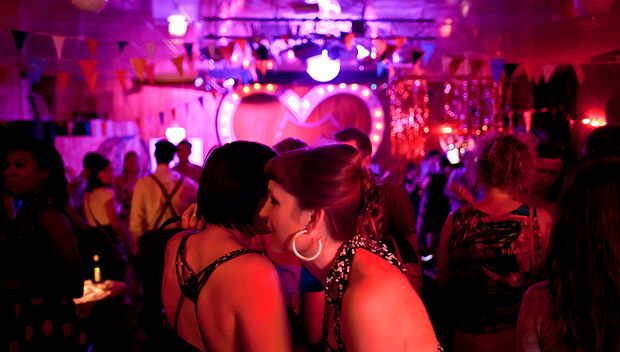 'A must see on the nightlife map.' – Timeout
'East End's most celebrated nightspot.' – Londonist
'One of the city's hottest underground club nights.' – Harpers Bazaar
Tucked away off the beaten track (off Bethnal Green Road), just east of Shoreditch in London – that's where we are.
Since 1953 we've been a real east-end Workingmen's Club and we like to have a good time!
In fact we hold regular social events each week.
Some racy, others cultural and refined, but mostly wild and unhinged good-times.
We're not your typical 'club' venue.
Not only do we put on a damn good night out, but we engage and encourage the growth of local artists, musicians, DJs, and performers; working with them to create and promote all sorts of accessible events.
We're seen by many as a vital part of community life, surviving with our original purpose intact but reinvigorated with an improved programme of events.
We produce evocative and interactive events, curating unpretentious happenings in the club and beyond that give guests not just a great time but an experience to take away.
Text supplied by venue or third party.
Tell us more about this venue.