"Country, the UK, lost its way, seeks life partner/mentor/inspiration. Good sense of humour essential. No timewasters, tedious show-offs or offend-o-trons need apply. HR free zone."
Standing up so you don't have to take it lying it down anymore, the Pub Landlord is back to make sense of the questions you probably already had the answers to. You know what they say: There's no school like the old school, with the dodgy overflowing toilets.
Sat 6 Apr

Forbidden Nights is made up of a male vocalist, aerial artist, pole performer and fire act all with an element of strip tease – think Cirque du Soleil meets Magic Mike.
Sun 17 Nov

The Jam exploded onto the punk scene in 1977 and became the sound of the British youth and one of the greatest and biggest selling bands in British history. From The Jam have gained a reputation for the kind of incendiary live performances that sealed the reputation of The Jam all those years ago. Expect to hear classic The Jam hits such as 'Down In The Tube Station At Midnight', 'Going Underground', 'Town Called Malice' and 'The Modern World' as well as some live favourites and songs from Bruce's solo career.
Fri 10 May

It's time to lift our voices once more as Gareth Malone celebrates his fifth national tour this autumn.
Join Gareth, together with his band and a group of stellar singers as he guides you through an evening of song. Featuring the tunes he's performed over the last 15 years on television, this feel-good concert will leave you with a song in your heart and a spring in your step.
Playing piano, guitar and bass, Gareth will keep you entertained throughout as he makes up songs on the spot, chats to the audience and finds singing diamonds amongst you all.
Whether you are coming with a choir or as sing-along solo, all are welcome to join Gareth in this celebration of community and song.
Thu 7 Dec

Star of SAS: Who Dares Wins goes on tour and discusses his career as a member of the UK Special Forces.
Fri 19 Jan

Observational humour from the famed stand-up.
Wed 20 Mar

Does your child like dinosaurs? Jurassic Earth is stomping to Jurassic Earth Live at Dorking Halls, Dorking on Saturday 3rd February 2024!! The original & best live dinosaur Show!
Prepare to go on a Jurassic adventure!
Meet intrepid explorers, fascinating professors & the bravest of rangers as they take you on a journey through Jurassic Earth, introducing their herd of the most incredible Dinosaur species to have ever lived!
Bring your biggest ROOAR and your fastest feet as you take Ranger Danger's masterclass to become an official dinosaur ranger – gaining the skills you need to come face-to-face with the world's largest walking T Rex, a bighearted Brontosaurus, tricky Triceratops, uncontrollable Carnotaurus, vicious Velociraptors & sneaky Spinosaurus.
Feel the excitement of watching a dinosaur egg hatch in front of your eyes and the thrill of meeting the cutest Ankylosaurus, Pterodactyl and baby hatchlings…
A thrilling interactive family show for dino-crazy families!
A fun-filled 75 minute family show suitable for all ages, featuring astounding animatronics and excitingly realistic performances.
Get ready to laugh, scream, sing and ROAR as we welcome you to the greatest dinosaur adventure on Jurassic Earth…
So ROARSOME, you'll never want it to end!
The original & best dinosaur show - See our incredible reviews!
"I can honestly say this is the best show we have ever taken any of our three children to. The interactive nature of it held our little boys' attention for the whole duration of the show and they have been talking about it ever since!"
"What an amazing show, our 10 year old daughter and 4 year old son absolutely loved every minute of it, and me & the Mrs actually had a blast as well! Well done to all involved"
Sat 3 Feb

Proudly Presented by Phil McIntyre Live by arrangement with The Galton Agency
Following his ground-breaking 2018 show, Deaf Comedy Fam, Ray Bradshaw's new stand-up show, Deaf Com 1, covers his recent fatherhood, teaching his young son sign language and a disastrous trip to Bahrain!
International award-winning comic, Ray, spent 2021/22 touring the UK as John Bishop's handpicked support act, having previously toured with Frankie Boyle in 2019.  Ray was the first comedian to ever win a Scottish Culture Award and is a regular host of Scotland's most popular radio show, Off the Ball.
Ray is a CODA (like in the Oscar winning film) and grew up with deaf parents. All of his shows are performed in both BSL and English, with Deaf Comedy Fam becoming the first ever live comedy experience for more than 800 deaf audience members.
Ray's clever, charming and very funny comedy has received critical acclaim from critics and fans alike.
Sun 7 Apr

Reverend Richard Coles is the only British vicar to have had a number-one hit single and to have appeared as a contestant on Strictly Come Dancing - a claim which seems unlikely to be matched any time soon. He is also a Sunday Times bestselling author, Twitter phenomenon and enormously loved broadcaster.
Sex, drugs, pop stardom, religious epiphany; love, a dream job, and the madness of grief. Some or all of this may come out as Richard lifts the lid on a life truly and truthfully lived.
An intimate evening with a unique national treasure embarking on a first full national tour because he's done pretty much everything else a person can do.
Seen and heard on BBC Radio 4's Saturday Live, Would I Lie To You?, Have I Got News For You & QI, Reverend Richard Coles is often described as Britain's most famous vicar
Thu 7 Mar

Blue Jeans Management
The multi award-winning Welsh comedian is back with a brand-new live show. In a seven-year break from stand-up, a lot has happened to Rhod. Almost all of it shit. Just when he thought he'd hit rock bottom, he met a bloke… called John. This show sees Rhod as funny as ever, but like never before. Raw, personal and brutally honest; no more lies, no more nonsense. As seen on Rhod Gilbert's Work Experience, Would I Lie to You?, Taskmaster, QI, The Apprentice: You're Fired, Live at The Apollo, Have I Got News for You.
Age category: 16+
Wed 1 Oct

Multi-award-winning chef, writer, restaurateur and presenter Rick Stein delves into his lifelong love affair with cooking and his unwavering devotion to the brilliance of great British produce.
Tue 19 Mar

Comedian Ross Noble's newest hour.
Fri 8 Mar

Rumours of Fleetwood Mac, the world's finest tribute to Fleetwood Mac, returns to perform the iconic Rumours album in its entirety, plus a special set celebrating the very best of Fleetwood Mac.
This show allows fans, both old and new, to rediscover the songs and performances that have secured Fleetwood Mac's place as one of the most loved groups of all time.
Personally endorsed by Fleetwood Mac founding member, Mick Fleetwood, Rumours of Fleetwood Mac is the ultimate tribute to one of rock and roll's most remarkable groups.
Mon 8 Apr

After an incredible sold-out debut run, the man who asked us "do you ski?" is leaving his home in the Tower of London (for good). Catch him as he departs on a second triumphant tour across our nation armed with even more outrageous takes, unbelievable tales, and biblical chat to leave you bowled over with laughter.
Having amassed a loyal fan base of over a quarter of a million followers the multi-viral, social media sensation is delving even deeper into his ludicrous life as he tries to smarten up the not so honourable aspects of himself. Take a look at the pitfalls of online celebrity, the perils of post-palace living and find out that, in an age where everyone is so obsessed with the veneer of virtual contentment, maybe it takes crashing back down to reality to discover where happiness truly lies.
As seen on Comedy Central and tour support for Milton Jones.
Wed 6 Mar

'The closest you'll get to the real thing' with this high-energy tribute act.
Sat 20 Apr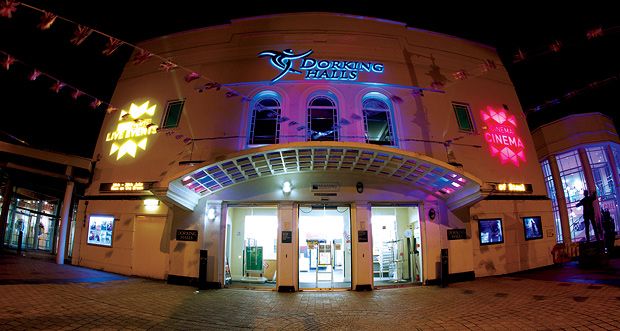 Opened in 1931, mainly to act as a venue for the Leith Hill Music Competition, Dorking Halls was the property of the festival until WWII during which they were commandeered by the Meat Marketing Board and the army. In 1946, the halls were thriving, with community events being held there, including flower shows, scout meetings and dances. They were refurbished in 1997 and the venue became a location for theatre, comedy and music, as well as films.
The halls are located in the centre of town and there is parking available at the side and rear of the venue as well as opposite in the council offices car park.
Tell us more about this venue.