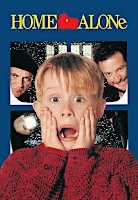 Directed by: Chris Columbus
Written by: John Hughes
Cast: Macaulay Culkin, Joe Pesci, Daniel Stern, John Heard, Catherine O'Hara
An alternative Christmas treat chosen by you. When Kevin is accidently left Home Alone he is forced to protect his house from a pair of bungling burglars.
Peter and Kate McCallister (Heard and O'Hara) have an eight-year-old brat and wisely – albeit accidentally – leave him behind in Chicago when they go on holiday to Paris. Left to his own devices young Kevin (Culkin) has to deal with two bungling burglars (Pesci and Stern) who threaten to invade his peaceful haven. Jolly, if sadistic, scare-comedy antics produced by teen flick veteran John Hughes.
Fri 15 Dec
Thu 21 Dec
Beaver Ridge Campsite has a GIANT problem.
Every night, the sound of GIANT footsteps, causes treetops to tremble, windows to wobble and clouds to collide bringing GIANT rainstorms across the Enchanted Forest. Sometimes a GIANT voice is heard booming across the sky.
Visitors have stopped coming to the campsite so no one has any work and the village is running out of money. Pretty soon everyone will be poor.
Dame Tilly Trot thinks the noise is coming from Giant Grumblebum who was banished to live in the Kingdom of Clouds where he has slept for one hundred years. He must have been disturbed last Bonfire Night when a particularly loud banger went off, shattering the peace and quiet of the Woodlands.
The Lord Mayor Tommy Tomato calls an emergency meeting of the townsfolk telling everyone to be on the lookout for any signs of the Giant.
Forest Rangers Sidney Sprout and Holly Bush patrol the area, Robin Hood searches the Forest, Red Riding Hood watches the Withering Woods, Big Mac the Cow marshals the meadows and Jack Beansprout teaches the woodland animals to dance! As if that would help!
Suddenly the arrival of a new visitor Madame Cowella Daville throws everyone into a tailspin and a GIGANTIC adventure begins.
Fee-Fi-Fo-Fum…beware of Giant Grumblebum!
Packed full of adventure, fun, dazzling costumes, hit songs, audience participation, and all your favourite characters – don't miss our giant panto that's Fe-Fi-Fo-Fun!
Tommy Cannon: Lord Mayor Tommy Tomato Crissy Rock: Madame Cowella Daville Leah Bell: Dame Tilly Trot Jason Jones: Big Mac the Cow Gareth Arthurs: Forest Ranger Sydney Sprout Andy Power Tate: Forest Ranger Holly Bush D-Zed: Jack Beansprout Kas O Neil: Prince Harold Jonny Larman: Robin Hood Tia Dodds: Fairy Treetops Gabrielle Seren: Mariella Tomato Annabelle Peterson: Red Riding Hood Lois Lorraine: Bo Beep Lucy Gregory: Strawberry Shortbread
Choreography by Harriet O' Brien Costumes by Charmain Hamilton Stage Set and Lighting by FX Productions
£10 saver (all tickets £10) on Saturday 2 December at 3.00pm Relaxed performance on Thursday 28 December at 11.00am British Sign Language interpreted performance on Thursday 28 December at 3.00pm
Jack and the Beanstalk video transcript.pdf
Sat 9 Dec
Sun 10 Dec
Tue 12 Dec
Wed 13 Dec
Thu 14 Dec
Fri 15 Dec
Sat 16 Dec
Sun 17 Dec
Tue 19 Dec
Wed 20 Dec
Thu 21 Dec
Fri 22 Dec
Sat 23 Dec
Sun 24 Dec
Tue 26 Dec
Wed 27 Dec
Thu 28 Dec
Fri 29 Dec
Sat 30 Dec
Sun 31 Dec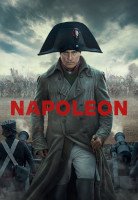 Directed by: Ridley Scott
Cast: Joaquin Phoenix, Vanessa Kirby, Tahar Rahim
Director Ridley Scott's film takes a personal look at Napoleon Bonaparte's origins, and his swift, ruthless climb to emperor viewed through the prism of his addictive, and often volatile, relationship with his wife and one true love, Josephine. Starring Joaquin Phoenix as Napoleon and Vanessa Kirby as Josephine.
Sat 9 Dec
Mon 11 Dec
Tue 12 Dec
Wed 13 Dec
Thu 14 Dec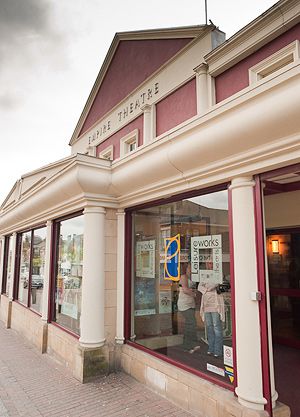 The Empire Theatre & Cinema is a popular 500 capacity venue in the heart of Consett, screening live theatre shows ranging from comedy and children's plays, to classical ballets and live music.
The cinema now screens the latest blockbusters and 3D movies, with a new state-of-the-art digital projector. The Cafe Bar also offers a place to unwind, with a superb range of beverages, cakes, pastries and more.
Text supplied by venue or third party.
Tell us more about this venue.