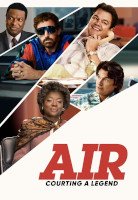 Directed by: Ben Affleck
Cast: Matt Damon, Jason Bateman, Ben Affleck
The creation story of the iconic shoes: the Air Jordans.
Tue 20 Jun
Thu 22 Jun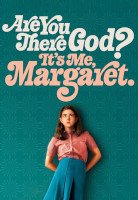 Directed by: Kelly Fremon Craig
Cast: Rachel McAdams, Abby Ryder Fortson, Elle Graham, Benny Safdie, Kathy Bates
Coming of age comedy drama based on the much-loved book by Judy Blume. When her family moves from the city to the suburbs, 11-year-old Margaret navigates new friends, feelings, and the beginning of adolescence.
Starring Rachel McAdams, Kathy Bates and Abby Ryder Fortson.
Tue 13 Jun
Thu 15 Jun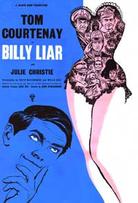 Directed by: John Schlesinger
Written by: Keith Waterhouse (novel and play), Willis Hall (play)
Cast: Tom Courtenay, Julie Christie, Wilfred Pickles, Mona Washbourne
Vintage northern kitchen sink drama based on Keith Waterhouse's popular book. An undertaker's clerk slips in and out of a Walter Mitty-style fantasy world to escape the drudgery of life in a northern town. The spirit of the swinging 60s is captured in Christie, while Courtenay brings a warmth and sensitivity to the tale.
Thu 8 Jun

'Alice was thinking about her own next world and her own castle, which was not in Kingsbury or in Kilburn. It was far away from here, out in the fields near the edge of Benin City, a little house, long in the dreaming, which her relatives had been building for her for when it was time to go home to Nigeria. One day it would be time to go home.'
We're delighted to welcome acclaimed novelist Diana Evans to Penarth to talk about her new book,_ A House for Alice. Set in the harrowing aftermath of the Grenfell tragedy, this powerful and moving novel from the author of _Ordinary People follows the titular protagonist and her three daughters, as they search for a place Alice would be happy to call her last home.
About A House for Alice:
_After fifty years in London, Alice wants to live out her days in the land of her birth. Her three children are divided on whether she stays or goes, and in the wake of their father's death, the imagined stability of the family begins to fray.
Meanwhile youngest daughter Melissa has never let go of a love she lost, and Michael in return, even within the sturdy walls of his marriage to the sparkling Nicole, is haunted by the failed perfection of the past. As Alice's final decision draws closer, all that is hidden between Melissa and her sisters, Michael and Nicole, rises to the surface… _
Set against the shadows of Grenfell and a country in crisis, these ordinary people are faced with fundamental questions about who they are, what they want and where, and with whom, they want to be.
DIANA EVANS is the author of the novels 26a, The Wonder and Ordinary People. She has received nominations for the Whitbread First Novel, the Guardian First Book and the Commonwealth Best First Book awards and was the inaugural winner of the Orange Award for New Writers. Ordinary People won the 2019 South Bank Sky Arts Award for Literature and was shortlisted for the Women's Prize for Fiction, the Rathbones Folio Prize and the Orwell Prize for Political Fiction, and also received a nomination for the Andrew Carnegie Medals for Excellence in Fiction. Her journalism appears in Time magazine, the Guardian, Vogue and the Financial Times. She lives in London.
★★★ Tuesday 20 June 7.30 pm | Penarth Pier Pavilion Tickets: £7.00 / Free for Friends of Penarth Literary Festival
The Penarth Literary Festival is organised by Griffin Books and runs from Wednesday 14 - Sunday 25 June. The festival coincides with Independent Bookshop Week and includes a packed programme of author events, workshops, and lots of other bookish fun for all ages and interests. Click here to find out more [https://www.griffinbooksonline.co.uk/pages/penarth-literary-festival].
Tue 20 Jun
Penarth Pier Pavilion
James Lea introduces and discusses Schoenberg's groundbreaking, expressionist masterpiece with live examples from the festival musicians. Claire Booth - soprano, David Adams - violin/viola, Alice Neary - cello, Matthew Featherstone - flute/piccolo, Tom Verity - clarinet/bass clarinet, Jâms Coleman - piano
Fri 7 Jul
Family Concert - The Mystery of the Missing Maestro!
Lenny Sayers once again leads a fun-filled hour of story-telling and music with festival musicians and children from local primary schools
Sun 9 Jul
The Festival Finale has a bohemian feel to it, allowing us to really let our hair down! Janacek's stunning and profoundly moving violin sonata with Smetana's richly romantic piano trio is followed by the deep sonority of Dvorak's string sextet to finish the festival with a flourish!
Janacek Violin Sonata JW V11/7 Smetana Piano trio in G minor op.15 Dvoràk String Sextet in A major Op.48
David Adams - violin, Magnus Johnston - violin, Laura Samuel - violin, Lucy Gould - violin, Rebecca Jones - viola, Tom Dunn - viola, Alice Neary - cello, Philip Higham - cello, Jâms Coleman - piano
*
Sun 9 Jul
This event will be a celebration of the life of Nicola Heywood-Thomas who sadly died in April. Tim Rhys Evans OBE, Director of music RWCMD and Rachel Jones CEO, Arts&Business Cymru will be hosting the event, as two of Nicola's closest friends. The music, played live by the festival musicians, will be chosen by family and friends and will reflect her passionate love of music throughout her life. Do join us to remember a fantastic woman and a superb broadcaster.
Doors open at 2.30pm - tea and cake included in ticket price
Sun 9 Jul
Penarth Pier Pavilion Cello Sonata L.135 ("Pierrot fâché avec la lune") Debussy Pierrot Lunaire Schoenberg String Quartet in D minor D.810 "Death and the Maiden" Schubert
Laura Samuel - violin, Lucy Gould - violin, Tom Dunn - viola, Philip Higham - cello, Claire Booth - soprano, David Adams - violin/viola, Alice Neary - cello, Matthew Featherstone - flute/piccolo, Tom Verity - clarinet/bass clarinet, Jâms Coleman - piano
Fri 7 Jul
Piano Quartet in D major Op. 23 Dvorak Chansons Madécasses Ravel String Quartet in F major op.59 no.1 Beethoven
Claire Booth - soprano, David Adams - violin, Magnus Johnston - violin, Lucy Gould - violin, Tom Dunn - viola, Rebecca Jones - viola, Alice Neary - cello, Philip Higham - cello, Jâms Coleman - piano, Matthew Featherstone - flute
Thu 6 Jul
Concert in a supportive environment for those with special needs and their carers with the festival musicians playing highlights from the festival programme. Please contact info@penarthchambermusicfestival.org.uk for more information
Fri 7 Jul
​
A concert to celebrate young, talented musicians.
Sun 9 Jul

Fancy a night of great swingin' live music and dancing this summer?
Grab your dance shoes and join us on Friday 21 July 2023 as The Swing Project presents: Swing The Pier!
Kick off the evening with our Lindy Hop Taster Class - no experience or partner required
Then join us on the dancefloor as we swing the night away with live music from the incredible Sarah Meek Quintet and ​The Swing Project's resident DJ Jessie Brooks.
Doors Open: 7pm Tickets: £18 The venue bar will be open all night - please do not bring your own alcohol into this event.
More Details at: www.swingproject.co.uk/swingthepier
Fri 21 Jul
Tell us more about this venue.