Directed by: Justin Martin
Cast: Jodie Comer
Jodie Comer (Killing Eve) makes her West End debut in the UK premiere of Suzie Miller's award-winning play.
Tessa is a young, brilliant barrister. She has worked her way up from working class origins to be at the top of her game; defending; cross examining and winning. An unexpected event forces her to confront the lines where the patriarchal power of the law, burden of proof and morals diverge. Prima Facie takes us to the heart of where emotion and experience collide with the rules of the game.
Justin Martin directs this solo tour de force, recorded live at the intimate Harold Pinter Theatre in London's West End.
Thu 21 Jul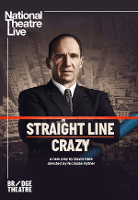 Directed by: Nicholas Hytner
Cast: Ralph Fiennes
A new play by David Hare
Directed by Nicholas Hytner
Ralph Fiennes leads the cast in David Hare's blazing account of the most powerful man in New York, a master manipulator whose legacy changed the city forever.
For forty uninterrupted years, Robert Moses exploited those in office through a mix of charm and intimidation. Motivated at first by a determination to improve the lives of New York City's workers, he created parks, bridges and 627 miles of expressway to connect the people to the great outdoors.
Faced with resistance by protest groups campaigning for a very different idea of what the city should become, will the weakness of democracy be exposed in the face of his charismatic conviction?
Broadcast live from the Bridge Theatre in London, Nicholas Hytner directs this exhilarating new play.
Running time: 2h 30m
Ages: 15+
Thu 26 May
Award-winning, not-for-profit community cinema.
Text supplied by venue or third party.
Tell us more about this venue.