Everybody Knows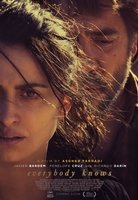 2018
Spain / France / Italy
Directed by: Asghar Farhadi
Cast: Penelope Cruz, Javier Bardem, Carla Campra
Language: Spanish
Laura (Cruz) returns to her small town for a family wedding with her teenage daughter Irene (Campra) and young son. But then Irene is kidnapped. A stellar cast and careful craftsmanship make this portrait of family tensions perfectly watchable, but it's a bit soapy and predictable and never as gripping as it might be.
Performance times
This film is not currently showing in cinemas.
2018 | 133 mins | Dir: Asghar Farhadi | Cast includes: Penélope Cruz, Javier Bardem | Cert: 15
Penélope Cruz and Javier Bardem star as Laura and Alejandro, a married couple living in Argentina with their family. When Laura returns to her hometown in Spain for a wedding with her two children, her teenaged daughter Irene goes missing, and the family start to receive ransom letters. But is there more to this supposed kidnapping than meets the eye? Has Irene really been kidnapped? And – as secrets emerge and suspicions tighten – are Laura and Alejandro who they say they are?
In Spanish with English subtitles.
4 The Guardian
Text supplied by third party.
Tell us more about this listing.