Patrick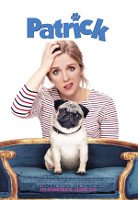 Directed by: Mandie Fletcher
Cast: Beattie Edmondson, Ed Skrein, Jennifer Saunders
UK release: 29 June 2018
Sarah (Edmondson) inherits a pug, Patrick, from her grandmother, and the trouble-making little scamp turns her life upside down. How much you enjoy it is directly proportional to your tolerance of canine reaction shots, but it's so relentlessly light and breezy that it wins you over even if if it never actually makes you laugh.
Watch trailer
Performance times
This film is not currently showing in cinemas.
Patrick (trailer)
Tell us more about this listing.