Batman Begins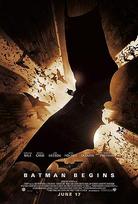 Directed by: Christopher Nolan
Cast: Christian Bale, Michael Caine, Liam Neeson, Katie Holmes, Gary Oldman, Cillian Murphy, Morgan Freeman
Deeply flawed but satisfyingly dark and realistic adaptation of both Bob Kane's original strips and Frank Miller's Batman: Year One. David Blade Goyer's script is pretty awful but this is also a fairly substandard piece of work from Nolan as well. 'Batman Begins' does, however, need to be applauded for partly revitalising an ailing franchise.
Watch trailer
Performance times
This film is not currently showing in cinemas.
Batman Begins trailer
Tell us more about this listing.