London Unplugged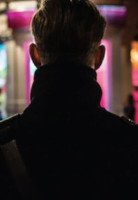 Directed by: Nick Cohen, Layke Anderson, Natalia Casali, Andres Heger-Bratterud, Ben Jacobson, Rosanna Lowe, Gaelle Moure, Kaki Wong, Qi Zhang
Cast: Juliet Stevenson, Poppy Miller, Imogen Stubbs, Ivanno Jeremiah, Ricky Nixon, Bruce Payne
UK release: 18 January 2019
Anthology film showing aspects of London life, with short stories by a number of different directors. The best are the ones which take a clear-eyed view of modern life; the less successful ones are more genre-driven, but linking it all are interviews with an immigrant woman athlete whose experiences give a powerful sense of the city as opportunity and oppressor.
Performance times
This film is not currently showing in cinemas.
Tell us more about this listing.