Fighting with My Family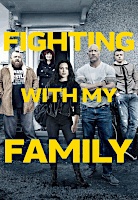 Directed by: Stephen Merchant
Cast: Florence Pugh, Lena Headey, Nick Frost, Jack Lowden, Vince Vaughn, Dwayne Johnson
Based on the true story of WWE champion Saraya-Jade Bevis, aka Paige (Pugh), following her journey from dismal Norwich via Florida boot camp to the stadium. Pugh and Lowden as her brother are good, but the innuendo is crude, the characterisation shallow and the attempt to depict Saraya's rise as some kind of feminist revolution is unconvincing.
Performance times
This film is not currently showing in cinemas.
Reviews & features
Dwayne Johnson is loving reaction to Fighting With My Family

11 Feb 2019
Film gossip
Dwayne 'The Rock' Johnson has loved the "bat s**t bananas" reaction to 'Fighting With My Family'. The WWE legend has returned to his "wrestling roots" to produce the new comedy drama based on the life of former women's champion Paige, and he admitted he…
Fighting with My Family (trailer)
Tell us more about this listing.