The Irishman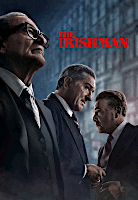 Directed by: Martin Scorsese
Cast: Robert De Niro, Al Pacino, Joe Pesci, Anna Paquin
UK release: 8 November 2019
The story of mob enforcer and union official Frank Sheeran (De Niro) and his relationship with Teamsters president Jimmy Hoffa (Pacino) and Mafia string-puller Russell Bufalino (Pesci). The de-aging technology is easy to forgive thanks to the masterly filmmaking, and although there's no room for a complex female character it's gripping, sombre and builds to a shattering conclusion.
Read articles
Performance times
This film is not currently showing in cinemas.
News & features
Anna Paquin found it 'special' working with Martin Scorsese

14 Oct 2019
Film gossip
Anna Paquin says it was a "special" experience to get to work alongside Martin Scorsese on 'The Irishman'. The Oscar-winning actress stars in the legendary director's latest film, a Mafia drama which boasts a star-studded cast that includes Robert De…
Martin Scorsese defends 'Netflix' decision

14 Oct 2019
Film gossip
Martin Scorsese has defended his decision to partner with Netflix on his new movie 'The Irishman'. The streaming service financed Scorsese's new Mafia drama, which seems him reunited with long-time collaborators Robert DeNiro and Joe Pesci and also…
Tell us more about this listing.