Babel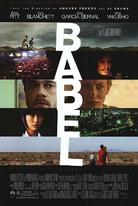 2006
US / Mexico
2h 23min
15
Directed by: Alejandro González Iñárritu
Written by: Guillermo Arriaga, Alejandro González Iñárritu
Cast: Brad Pitt, Cate Blanchett, Gael García Bernal, Adriana Barraza, Rinko Kikuchi, Kōji Yakusho, Elle Fanning, Nathan Gamble, Mohamed Akhzam
Language: English, Spanish, Arabic, French, Japanese, Japanese Sign Language, Berber
Website: www.paramountvantage.com/babel/
Screenwriter Guillermo Arriaga and director Iñárritu (both Amores Perros, 21 Grams) turn out another fragmented story with a deeply 'profound' message. Despite the A-list megastars, the sections about a Japanese girl and Moroccan kids fare the best. The rest is clichéd nonsense.
Performance times
This film is not currently showing in cinemas.
Tell us more about this listing.