The Boss Of It All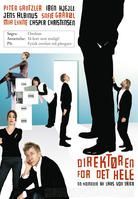 Directed by: Lars von Trier
Written by: Lars von Trier
Cast: Jens Albinus, Peter Gantzler, Friðrik Þór Friðriksson
Language: Danish, Icelandic, English, Russian
The ever playful Danish director brings us a silly screwball comedy shot in Automavision (computer-aided) in which IT boss Kristoffer (Albinus) hires a neurotic actor to pretend that he is the one making all the unpopular decisions.
Performance times
This film is not currently showing in cinemas.
Tell us more about this listing.