Diary of a Lost Girl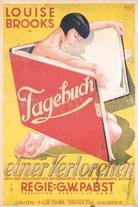 Directed by: GW Pabst
Written by: Margarete Böhme, Rudolf Leonhardt
Cast: Louise Brooks, Fritz Rasp, André Roanne, Josef Ravensky, Franziska Kinz
Language: Silent film, German intertitles
A young woman (Brooks) finds herself pregnant by an unscrupulous and mercenary character. Rejecting her family's expectations of marriage, she is sent to a reform school, and on escaping despondently enters a brothel. The surprisingly upbeat ending reminds us that Brooks' bad good girls are just as compelling as her good bad ones.
Performance times
This film is not currently showing in cinemas.
FRI 3 JUNE 19.30
Playhouse Cinema, COMMUNITY CENTRE
TICKETS £12
WURLITZA in Concert –Live Performance with Silent Film "Diary of a Lost Girl (1929)"
Wurlitza have been performing live music soundtracks to silent films for several years.
The scores are very carefully choreographed to fit the mood of every part of the film - requiring time keeping accurate to the second. The repertoire used is wide ranging from jazz and blues classics to classical pieces to modern anthems and some of Wurliza's own compositions.
Wurliza's approach is different to other soundtracks, offering a new experience by accompanying films with a mixture of jazz, classical and contemporary popular music, both instrumental and sung, bridging the distance between the present and the 1920's.
Diary of a Lost Girl is masterwork of the silent cinema whose reputation has only increased over time. It traces the journey of a young woman from the pit of despair to the moment of personal awakening. Fast moving and at times shocking, this gripping film defies convention as joy and compassion are found in the most unlikely places.
(Reservations can also be made on 01568 612583)
Hot food café from 18.00
Text supplied by third party.
Tell us more about this listing.