Villain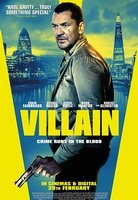 Directed by: Philip Barantini
Cast: Craig Fairbrass, Robert Glenister, Nicholas Aaron
UK release: 28 February 2020
Sean (Russo) is indebted to gangsters, but then his older brother Eddie (Fairbrass) is released from prison and finds out what's going on. The weakest element is the muddled, twisty ploy, too often veering into cliché and profanities, but with some simmering work from Fairbrass it's a post-pub guilty pleasure.
Performance times
This film is not currently showing in cinemas.
Tell us more about this listing.