No Country for Old Men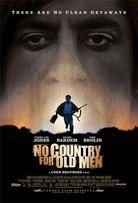 Directed by: Joel Coen, Ethan Coen
Cast: Tommy Lee Jones, Javier Bardem, Josh Brolin
The Coen Brothers return to form with this adaptation of Cormac McCarthy's novel. When Llewelyn Moss (Brolin) takes a bagful of cash from a drug deal that goes wrong he sets off a chain of events that lead psycho-killer Chigurh (pronounced sugar) to vow to do anything to get the money back. Though based on McCarthy's least interesting novel, the Coens imbue this simple tale with their trademark quirkiness and wry humour.
Performance times
This film is not currently showing in cinemas.
Tell us more about this listing.