Fred Claus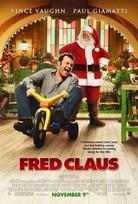 Directed by: David Dobkin
Written by: Dan Fogelman, Jessie Nelson
Cast: Vince Vaughn, Paul Giamatti
Website: fredclaus.warnerbros.com
Vaughn trades heavily on his wise guy charm as the dysfunctional Fred, in this overlong Christmas offering. Recently released from prison, Fred goes to stay with his big brother Nick (Giamatti) who turns out to be jolly Saint Nick himself. Brotherly feuding ensues until eventually the importance of fraternal bonding shines through. Real life misunderstood siblings are trotted out to unfunny effect, and seeing Vaughn and Giamatti labouring with such crude slapstick set-ups is enough to make a Scrooge out of anyone.
Performance times
This film is not currently showing in cinemas.
Tell us more about this listing.