The Proposition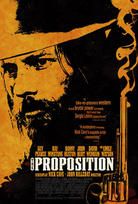 2005
Australia / UK
1h 43min
15
Directed by: John Hillcoat
Cast: Guy Pearce, Ray Winstone, Danny Hutson, John Hurt, David Wenham, Emily Watson, Richard Wilson
Bushranger country, Australia in the 1880s and Captain Stanley (Winstone) has captured two estranged members of a famous band of outlaws. He offers the oldest Charlie Burns (Pearce) a proposition that he cannot refuse - the trade of one brother for another. And so begins a vicious and visceral parable that leads Charles to the cave entrance of his deeply psychopathic older brother Arthur (Huston), and Stanley and his sweet natured new wife Martha (Watson) to an appointment with their destinies. Viscious, visceral, primative and near biblical flyblown Western from the pen of Nick Cave. Well worth seeking out.
Performance times
This film is not currently showing in cinemas.
Tell us more about this listing.