Untitled Sparks Documentary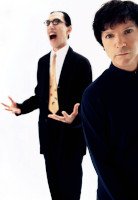 Directed by: Edgar Wright
Cast: Ron Mael, Russell Mael
Read articles
Performance times
This film is not currently showing in cinemas.
Reviews & features
Edgar Wright glad Sparks trust him with documentary

2 Aug 2020
Music gossip
Edgar Wright is "proud" Sparks are trusting him to tell their story. The 46-year-old filmmaker – who has worked on the likes of 'Shaun of the Dead' and 'Hot Fuzz' as well as music videos for The Bluetones and Mint Royale – is at the helm for the group's…
Tell us more about this listing.