All In: The Fight for Democracy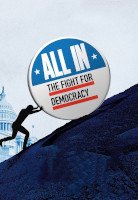 Directed by: Liz Garbus, Lisa Cortés
Cast: Stacey Abrams
Documentary about voter suppression in America.
Read articles
Performance times
This film is not currently showing in cinemas.
Reviews & features
Janelle Monáe fights for rights in new single

8 Sep 2020
Music gossip
Janelle Monáe has released a new single aimed at fighting for voting rights. The 34-year-old singer's new song, 'Turntables' was released on Tuesday (08.09.20), ahead of its feature in the upcoming Amazon Studios documentary, 'All In: The Fight For…
Tell us more about this listing.