Garage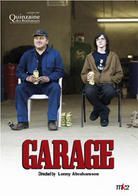 Directed by: Lenny Abrahamson
Written by: Mark O'Halloran
Cast: Pat Shortt, Anne-Marie Duff, Conor Ryan
Website: www.garagethefilm.com
Like Abrahamson's quirky junkie comedy 'Adam and Paul', 'Garage' is another instance of oddballs living life on the margins of Irish society, which casts stand-up comedian Shortt as village idiot gas station attendant Josie, whose attempts at relationships are painful and heart-wrenching to watch. With lofty ambitions, this sophomore effort suffers from heavy-handed dénouement at odds with its winning, smart observations and offbeat comedy.
Performance times
This film is not currently showing in cinemas.
Tell us more about this listing.