Expensive Shit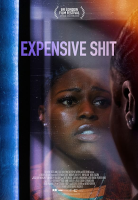 Directed by: Adura Onashile
Written by: Adura Onashile
Cast: Modupe Adeyeye, Kim Allan, Nebli Basani, John Mclarnon, Ainsley Jordan, Shona McHugh
UK release: 10 March 2021
Tolu (Modupe Adeyeye) is a toilet attendant in a Glasgow nightclub and is desperate to survive. To do so, she manipulates unsuspecting women's behaviour for men watching behind two-way mirrors. When she's forced to hand out a drugged bottle of water and things escalate, Tolu finds the courage to stand up against those in control.
Performance times
This film is not currently showing in cinemas.
Tell us more about this listing.