Rooster's Breakfast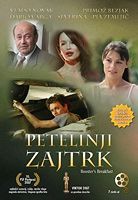 2007
Slovenia / Croatia
2h 4min
12A
Directed by: Marko Naberšnik
Written by: Marko Naberšnik, story:, Feri Lainšček
Cast: Vlado Novak, Primož Bezjak, Pia Zemljič, Janez Škof, Bojan Emeršič, Feri Lainšček
Language: Slovene
Djuro (Bezjak) leads a tranquil life as an apprentice in a rural garage owned by the eccentric Gagas (Novak). The arrival of brunette beauty Bronja (Zemljic), wife to the local mob boss, disturbs the peace in this Slovenian romance from Nabersnik.
Performance times
This film is not currently showing in cinemas.
Tell us more about this listing.