Lemmings: Can You Dig It?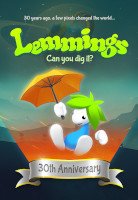 Directed by: Richard Wilcox
Watch trailer
Performance times
This film is not currently showing in cinemas.
Now to celebrate 30 years of the little floppy-haired creatures, this charming documentary does a deep-dive on all things Lemmings, interviewing the key creatives behind the classic puzzle game, telling the story of just how this game came to be, from early pencil sketches and rudimentary animation tests, to rave reviews and the now iconic front cover, which I'm sure the sight of will be like a shot of unfiltered nostalgia for many of us.
It's also an enthralling snapshot of a time when the videogames industry was very different than today, and a fascinating look at the game's legacy, including how the developer behind Lemmings, DMA Design, would go on to become Rockstar, the legendary company behind ground-breaking titles like Grand Theft Auto and Red Dead Redemption. But at its core, this is an unabashed love letter to a classic video game, and a treat for anyone who's ever led a pack of adorable Lemmings to their freedom (or untimely deaths)!
Text supplied by third party.
Lemmings: Can You Dig It? (trailer)
Tell us more about this listing.