Belfast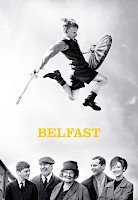 Directed by: Kenneth Branagh
Cast: Jude Hill, Lewis McAskie, Caitriona Balfe
Read articles
Performance times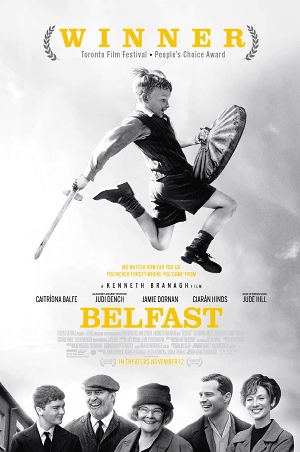 Acclaimed semi-autobiographical comedy-drama from Kenneth Branagh about a young boy growing up in working-class Belfast during the tumultuous late 1960s.
It's 1969 and the imaginative, free-spirited Buddy (Jude Hill) knows every inch of every person in his street of Protestant and Catholic families. He pops into neighbouring houses as though they were his own and people look out for him while his working-class parents (Jamie Dornan and Caitriona Balfe) hustle to make ends meet. But this blissful sense of security is about to be broken by sectarian violence.
Belfast might be Kenneth Branagh's most reflective film to date, but he brings to this intimate tale the same gift for big canvas filmmaking as seen in previous work. Shot in lustrous black and white by Haris Zambarloukos and accompanied by a rousing Van Morrison soundtrack, the film sees Buddy's child's-eye perspective on the increasing social unrest give way to imaginings inspired by his love of movies. With a world-class cast that also includes Judi Dench and Ciarán Hinds as Buddy's beloved grandparents, Belfast is a big-hearted ode to a city, its community and to family.
Text supplied by third party.
Reviews & features
Sir Kenneth Branagh loved returning home for Belfast

20 Jan 2022
Film gossip
Sir Kenneth Branagh "embraced" the chance to return to his childhood in 'Belfast'. The 61-year-old star has written and directed the new autobiographical movie and described his family's decision to leave his native Northern Ireland to escape the…
Tell us more about this listing.