Don't Look Up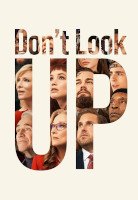 Directed by: Adam McKay
Cast: Leonardo DiCaprio, Jennifer Lawrence, Rob Morgan, Jonah Hill, Mark Rylance, Tyler Perry, Timothée Chalamet, Ron Perlman, Ariana Grande, Scott Mescudi, Cate Blanchett, Meryl Streep
UK release: 24 December 2021
Two astronomers try to warn everyone about a comet which will destroy the planet.
Read articles
Performance times
This film is not currently showing in cinemas.
This screening is only open to parents and guardians with babies under one year old.
The film is played at a lower level and with the lights on low.
These screenings are only for parents and guardians and their babies. So there's no need to worry about disturbing other guests while your film's playing.
The ticket price includes a hot drink and a slice of cake. Just show your ticket at the box office before the film and choose you drink and cake.
Two astronomers go on a media tour to warn humankind of a planet-killing comet hurtling toward Earth. The response from a distracted world: Meh.
Starring:
Leonardo DiCaprio
Jennifer Lawrence
Meryl Streep
Jonah Hill
Cate Blanchett
Tyler Perry
Timothée Chalamet
Ariana Grande
Mark Rylance
Text supplied by third party.
Reviews & features
Leonardo DiCaprio, Meryl Streep, and Jonah Hill join Don't Look Up cast

15 Oct 2020
Film gossip
Leonardo DiCaprio, Meryl Streep, and Jonah Hill are among the stars set to appear in 'Don't Look Up'. Jennifer Lawrence had already been announced for the Netflix comedy movie, and she looks set to be in good company with the likes of Cate Blanchett…
Jennifer Lawrence to star in Don't Look Up

20 Feb 2020
Film gossip
Jennifer Lawrence is to star in comedy 'Don't Look Up'. The 29-year-old actress has joined the cast of Adam McKay's new Netflix movie, which the filmmaker has written, and he is "thrilled" to have the 'Red Sparrow' star on board. He said: "I'm so…
Tell us more about this listing.