Memoria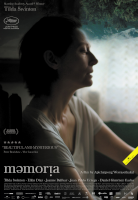 Directed by: Apichatpong Weerasethakul
Cast: Tilda Swinton, Elkin Díaz, Jeanne Balibar, Juan Pablo Urrego, Daniel Giménez Cacho
A Scottish woman begins to hear strange noises while travelling in Colombia.
Performance times
This film is not currently showing in cinemas.
From the extraordinary mind of Palme D'or winning director Apichatpong Weerasethakul, and starring Academy Award winner Tilda Swinton, comes a bewildering drama about a Scottish woman, who, after hearing a loud 'bang' at daybreak, begins experiencing a mysterious sensory syndrome while traversing the jungles of Colombia.
Visiting her sister in Bogota, Jessica (Tilda Swinton) is woken up by a loud bang, audible only to her. Restless and disoriented, she roams the city in search of an explanation for the mysterious sound, becoming immersed in the aural richness around her – whispers in a hospital room, sound effects playing in an editing studio, indiscreet noises from a city square. Despite being present throughout, Jessica's motives remain opaque and her encounters enigmatic. Shooting a feature outside Thailand for the first time, Weerasethakul continues to probe the unknowable. Drawing on the familiar themes of sleep, memory, past lives, verdant landscapes and dreams, Memoria retains its own enthralling logic as the filmmaker employs his status as an outsider in Colombia to further amplify the power of the impenetrable. The film's commitment to sound allows us to follow Jessica to the threshold of personal and collective memory and provides a rare cinematic experience that will reverberate for a long time to come.
Text supplied by third party.
Tell us more about this listing.