Nope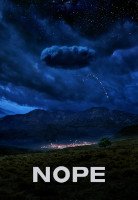 Directed by: Jordan Peele
Cast: Daniel Kaluuya, Keke Palmer, Steven Yeun
The residents of a remote Californian valley make an unsettling discovery.
Read articles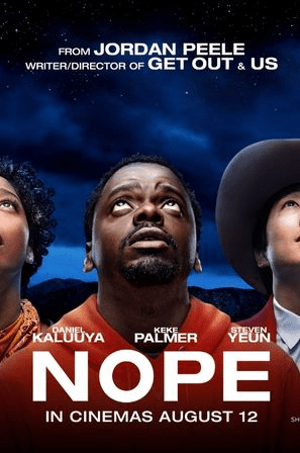 Writer/director Jordan Peele is one of contemporary horror's trailblazers, his previous films (supremely confident debut Get Out [https://www.dca.org.uk/whats-on/event/80371] and follow-up Us [https://www.dca.org.uk/whats-on/event/80379]) are simultaneously intelligent, genre-literate works that push the status quo and supremely entertaining, very funny and stylishly-directed crowd-pleasers.
"…inexplicable things start happening."
The superbly-titled Nope sees Peele reunited with star Daniel Kaluuya (who was Oscar-nominated for his Get Out performance) as he puts his spin on UFOs. Kaluuya plays OJ, brother to Emerald (Keke Palmer), who lives out in the desert on a horse ranch where strange, inexplicable things start happening. Minari and The Walking Dead's Steven Yeun stars as a local rodeo star, and perhaps the casting of genre legend Keith David (who starred in John Carpenter's They Live and The Thing) might give us a clue to the kind of irreverent extra-terrestrial horror we can expect.
Ever the showman, Peele likes to keep his cards close to his chest with regards to plot, and just as with Us, the exact nature of what awaits audiences with Nope is still up in the air (pun fully intended). One thing is for certain though; if Nope is of the same quality as Get Out and Us (and everything points to that being the case), we will have another very special film on our hands. In this case, we say believe the hype.
IF YOU NEED TO BOOK ONE OF OUR WHEELCHAIR SEATS PLEASE CONTACT OUR BOX OFFICE TEAM ON 01382 432 444, OR EMAIL DCA@DCA.ORG.UK. IF YOU REQUIRE ANYTHING ELSE OR HAVE ANY FURTHER QUESTIONS, PLEASE GET IN TOUCH. WE HOPE YOU ENJOY YOUR VISIT!
Text supplied by third party.
Reviews & features
Tell us more about this listing.