Food Inc.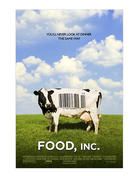 Dismantling some cherished myths about its agrarian way of life, Kenner's persuasive Oscar-nominated documentary seeks to lift the veil surrounding the food industry in America. The broad thesis is that agriculture in America has undergone a radical transformation in recent decades – a handful of multinational corporations now controlling how produce is planted, grown, distributed and sold.
Performance times
This film is not currently showing in cinemas.
Tell us more about this listing.