Double Bill: The Evil Dead / Evil Dead 2

Performance times
This film is not currently showing in cinemas.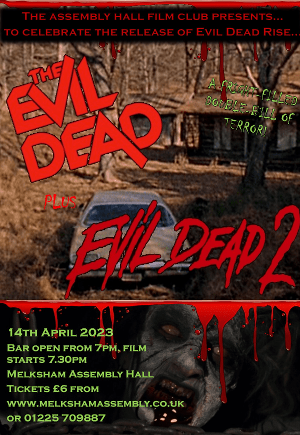 Calling all Deadites! April 21st sees the long-awaited release of Evil Dead Rise, the latest film in the beloved horror franchise that sees Sam Raimi - series creator and director of the three original films - reunite with Ash himself, Bruce Campbell, to take on executive producing duties.
To celebrate this momentous horror event, The Assembly Hall Film Club is screening a delectable double-bill of terror, splatter and slapstick comedy comprising of Raimi's original 1981 classic - one of the films that kicked off the 'video nasties' debacle here in the UK - and his perhaps even more celebrated 1987 sequel that goes for broke with the comedy and gory mayhem and gave rise to the term 'splatstick'.
As ever, the bar will be open throughout. There will be a 15 minute interval between films. Don't forget your boomstick.
This is an 18 and over event. No one under 18 will be admitted.
Text supplied by third party.
Tell us more about this listing.