Dragonfly Accessible Performance: Grease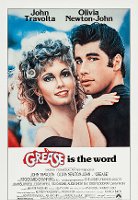 Performance times
Whilst every effort has been made to ensure the information displayed here is accurate, always check with the venue before attending.
This cinema screening is for people who have disabilities or SEN.
We bring you the hit musical Grease for our next showing for Dragonfly Accessible Performance!
It's coming to the end of the sun-kissed summer of 1958 with Sandy Olsson (Olivia Newton-John) meets Danny Zuko (John Travolta) at the beach and they fall in love. Sandy is heartbroken when the summer comes to an end and she has to return to Australia and all she has to remember him is the memories of their last kiss on the beach.
However, an unexpected change of plans from Sandys' parents as they decide to stay in America and she starts attending the same school as Danny, but at school Danny is very different. He is the leader of the T-Birds, a black leather-clad greaser gang and he has his reputation to keep. He can't be seen to fall in love with one chick, which upsets Sandy, and she seeks solace with her new friends, The Pink Ladies. But her prim and proper ways don't seem to fit in and she finds herself almost alone, so a change must be made. Does she attempt to get her man by turning him into a jock, or must she change herself?
Text supplied by third party.
Tell us more about this listing.