The Old Man Movie: Lactopalypse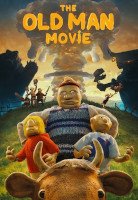 Directed by: Oskar Lehemaa, Mikk Mägi
Cast: Mikk Mägi, Oskar Lehemaa, Jan Uuspõld
Performance times
This film is not currently showing in cinemas.
In a remote Estonian village, three children from the city are forced to spend the summer on their grandfather's farm. Determined to make them see the simple beauty of country living, he sets them to work, only to have them accidentally set loose his prized but thoroughly mistreated cow. Now they have only 24 hours to find and milk the rogue bovine before its exponentially expanding udders explode and unleash the Lactopalypse. To make matters worse, a decrepit, disgraced farmer and his chainsaw-wielding gang is also determined to catch the animal, with murder on his mind. On their epic journey, our heroes must face festival hippies, vicious forest dwellers, strange woodland sprites, heavy-metal rockers and other dangers commonly found in the Estonian countryside!
"If Jan Švankmajer and the South Park crew launched a joint takeover of Aardman Animation, they might come up with something as surreal and puerile as this madcap, very funny, yet somehow sweet-natured Estonian stop-motion comedy. Expanding on the Vanamehe Multikas web series of viral shorts starring the cheerfully sinister Old Man farmer character, the feature raises its narrative stakes to a potential ruminant apocalypse, while the bodily function and bovine-inspired clowning is arguably raunchier than ever. Call it Creature Discomforts." Sight & Sound
Text supplied by third party.
Tell us more about this listing.