Reality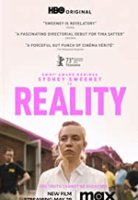 Directed by: Tina Satter
Cast: Sydney Sweeney, Marchánt Davis, Josh Hamilton
Performance times
This film is not currently showing in cinemas.
In June 3, 2017, 25-year-old former American intelligence specialist Reality Winner is confronted by FBI agents arriving at her home. Based on true events, the film's dialogue is directly from the transcript of their tense, transfixing conversation.
Saturday afternoon, June 3, 2017. Twenty-five year old Reality Winner is confronted at her home by the FBI. A cryptic conversation begins and soon Reality's life starts to unravel. With all dialogue taken directly from the FBI's transcript of the interrogation — alternately nail-biting and banal, darkly funny and surreal — we track one woman's experience of the U.S. government at work. And as more details of Reality's life are revealed and more armed men arrive, a complex portrait emerges of an American millennial, yoga teacher, and veteran under siege. REALITY examines truth, power and the U.S. legal system through the lens of one intimate, disconcerting and very real encounter, provoking conversations that endure long after the final frame.
"In its elegant simplicity, its formal daring and superbly subtle and controlled performances, Tina Satter's movie is surely one of the best at the Berlin film festival: an eerily gripping true-life drama concerning people who look like elaborately reanimated, hyperreal ghosts from the past." Peter Bradshaw - The Guardian
Director: Tine Satter Cast: Sydney Sweeney, Josh Hamilton, Marchánt Davis USA 2023 Run time: 1'23"
Text supplied by third party.
Tell us more about this listing.