Blue Valentine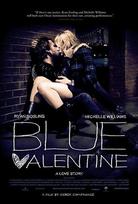 Directed by: Derek Cianfrance
Written by: Derek Cianfrance, Cami Delavigne, Joey Curtis
Cast: Ryan Gosling, Michelle Williams
An emotionally draining but extraordinary story of the decline of a marriage, following Dean (Gosling) as a man struggling to love his wife Cindy (Williams) who has grown apathetic towards him. Claustrophobic and at times almost unwatchable, the pair put in astonishingly good performances in this brutal piece of filmmaking.
Performance times
This film is not currently showing in cinemas.
Tell us more about this listing.