Theater Camp
Directed by: Molly Gordon, Nick Lieberman
Cast: Molly Gordon, Ben Platt, Noah Galvin
Read articles
Performance times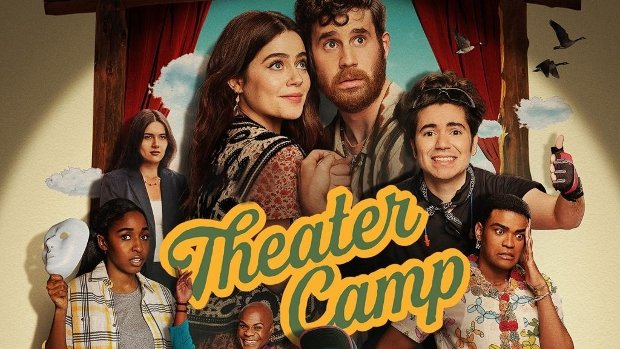 As summer rolls around again, kids are gathering from all over to attend AdirondACTS, a scrappy theater camp in upstate New York that's a haven for budding performers. After its indomitable founder Joan falls into a coma, her clueless "crypto bro" son Troy is tasked with keeping the thespian paradise running. With financial ruin looming, Troy must join forces with Amos, Rebecca-Diane, and their band of eccentric teachers to come up with a solution before the curtain rises on opening night.
First-time feature directorial duo Molly Gordon and Nick Lieberman authentically celebrate the brilliant and slightly unhinged educators and magical spaces that allow kids to be themselves and find their confidence, nailing the details after experiencing decades of camp life. With a winning ensemble cast and boundless creativity, Theater Camp wears its cult-following potential squarely on its sequined shoulders, gifting us with instantly quotable lines and zany, lovable characters in the kind of hilarious comedy that deserves rapturous applause.
Text supplied by third party.
News & features
Ben Platt gave Theater Camp designer 'generous' amount of freedom for special costumes

17 Aug 2023
Film gossip
Ben Platt gave 'Theater Camp' costume designer Michelle J. Li a "generous" amount of freedom. The 29-year-old actor – who plays Amos Klabuchar opposite Molly Gordon (Rebecca-Diane) in the upcoming musical comedy they wrote with co-star Noah Galvin…
Ben Platt starring in musical comedy Theater Camp

10 Jun 2022
Film gossip
Ben Platt has joined the cast of the musical comedy 'Theater Camp'. The Broadway star has been tapped to star in the movie with Molly Gordon, Noah Galvin, Amy Sedaris, Alan S. Kim, Patti Harrison, Owen Thiele, Jimmy Tatro, Ayo Edebiri, Caroline Aaron…
Tell us more about this listing.