Gregory's Girl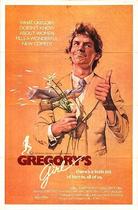 Directed by: Bill Forsyth
Written by: Bill Forsyth
Cast: John Gordon Sinclair, Dee Hepburn, Clare Grogan
Winning comedy from Cumbernauld with Sinclair eventually finding romance after his heart is set aflame by the latest recruit to the school football team. This is a seminal piece of Scottish cinema, its universal appeal demonstrating that homegrown talent can compete with Hollywood's finest in the entertainment stakes.
Watch trailer
Performance times
This film is not currently showing in cinemas.
GREGORY'S GIRL
Gregory's Girl is one of the most beloved Scottish film ever made. Writer-director Bill Forsyth (Local Hero, Comfort and Joy) beautifully portrays teenage awkwardness and optimism in a film that captures new town life like no other. Forsyth achieved a tender rapport with the youthful ensemble cast led by John Gordon Sinclair, Clare Grogan and Dee Hepburn: the entire cast sparkles amidst Cumbernauld's concrete architecture, the Cumby Fields and on the red ash football pitch. "The film was about adolescence and about being young and the pains of growing. I thought to myself, why don't we set the film in an adolescent town? I remember saying to someone, 'Even the trees in Cumbernauld are teenagers so everything fits.'" – Bill Forsyth.
Dir: Bill Forsyth
UK 1981 / 1h31m / 12A
Text supplied by third party.
Gregory's Girl trailer
Tell us more about this listing.