Mean Streets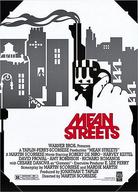 Directed by: Martin Scorsese
Written by: Screenplay:, Martin Scorsese, Mardik Martin, Story:, Martin Scorsese
Cast: Harvey Keitel, Robert De Niro, David Proval, Amy Robinson, Richard Romanus, Cesare Danova
Language: English, Italian
Tony's Bar is the base for four young Italian-Americans, whose increasingly illegal activities lead to tragedy. Vividly observed character study which combines breathtaking technique with a pervasive sense of corruption. Keitel and De Niro give among their very best performances, an earthly prayer from young Scorsese to faith and films - a rugged masterpiece.
Performance times
This film is not currently showing in cinemas.
Tell us more about this listing.